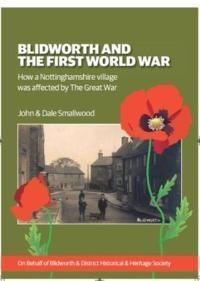 Our Society is extremely proud to be associated with this book and consider that the many months of planning and research, not to mention the long hours spent in ensuring that the subject is covered in as much detail as is necessary to demonstrate the importance of the First World War on our village.
Read about how life in the Parish of Blidworth, that at the time included Fishpool, Rainworth and Blidworth Bottoms, changed during the first thirty years of the 20th century.

Blidworth and the First World War is available for collection at a cost of £10 or can be ordered on line at a cost of £12.50 which includes post and packaging. Please order by simply supplying your postal address by email to blidworthhistory@virginmedia.com and you will be contacted with the details of how to make your payment.

Such has been the demand for the book that it became necessary to place an order for a reprint and therefore copies are once again available directly from us.

The book commemorates the local men who sacrificed their lives in the 'War to end all Wars'. It also tells of how the war might have been avoided if a shooting accident had ended in a fatality.

We glimpse life as it was through the eyes of bootmaker, Sam Clarke and hear stories about the daily life of our Parishioners. We learn that Blidworth had the first Co-operative in the country. We introduce the reader to 'Plough Bullocking' and learn the rules of 'Husky Fusky'. We also tell of the revival of the unique 'Rocking Ceremony' in St Mary's Church of the Purification.

The men who returned from the war faced great changes and some experienced severe hardships. The village became less dependent on agriculture as the mining industry developed and changed completely with the sinking of Blidworth Colliery.

The book contains over 120 pages and is richly illustrated with photographs of Blidworth Parish and its people, many of which have not been previously published.