Alan Brown. Born Rainworth Nottinghamshire October 17th 1935.
Alan Brown played professional cricket with Kent County Cricket Club and represented England and the MCC when the team toured India and Pakistan in 1961-62. As a right arm fast-medium bowler he was the main strike force for a decade with Kent CCC as well as being an aggressive tail end batsman.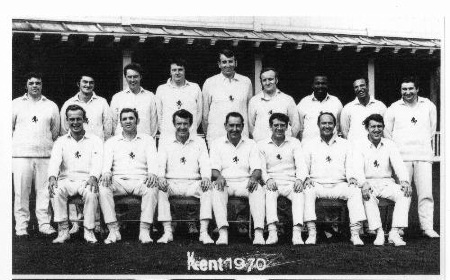 Alan Brown
front row
2nd from the left

The special significance of the 1970 picture is that Kent became County Champions that season for the first time since 1913. Alan played 13 County Championship matches that season, his last, and took 34 wickets. He first played for the County in 1957 and in 237 first class matches he took 707 wickets, also 4 wickets in 5 balls during a Kent v Notts match in1959. On 25 occasions Alan Brown took 5 or more wickets in an innings and four times he took 10 or more in one match. In his earlier years he regularly turned out for Blidworth Welfare cricket and football teams and is fondly remembered by many today. During the 1961-62 MCC tour of India and Pakistan, Alan's team mates included some very well known names such as Colin Cowdrey, Alan Knott, Derek Underwood and Mike Denness.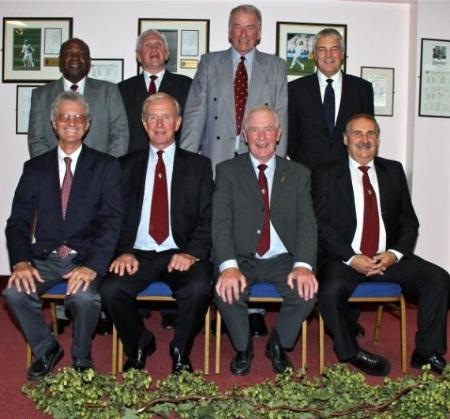 Back Row
John Shephard
Alan Brown
Norman Graham
Graham Johnson

Front Row
Alan Knott
Derek Underwood
Mike Denness
Alan Ealham

40th Anniversary Dinner
Kent CCC
September 10th 2010

George Butler. The Blidworth Lad who never thought of defeat.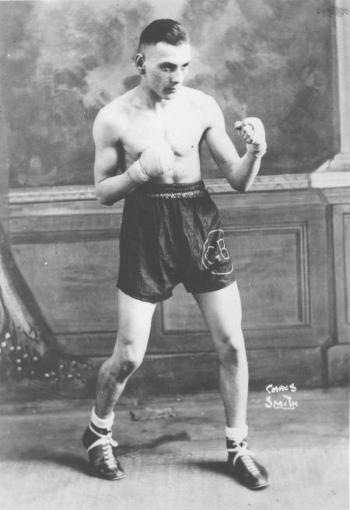 At 14 years old George Butler, as did, all but a very few village boys of his age began working at Blidworth Colliery, but during the 1930's and 1940's one of the most popular boxers to appear on Boxing Tournaments up and down the Country was George Butler of Blidworth. George was taught and encouraged as a lad by his father. At the age of 15, his father took him to train at the Brown Cow Inn in Mansfield. At that time this was the professional gymnasium of Charlie Coates, the well known Sutton in Ashfield Boxing Manager and Promoter. After one year Charlie Coates applied for and was granted a licence for George to fight as a professional. He began his career as a flyweight and was outpointed by the more experienced boxer Young Wheeldon of Alfreton over 6 rounds at Sutton Baths and next lost on points in Sunderland against Dave Shades. His next 3 contests resulted in one win, one draw and one lost. George soon started winning regularly and after a few more bouts he moved up to Bantamweight class. After more wins George was growing quickly and at the age of 17, only 18 months after he began his boxing career he moved into the featherweight division and was adjudged good enough to top the bill. In those days it was not unusual for him to fight twice in one week and indeed on one occasion George fought 4 times in seven days. It is not known how he was allowed days off work as a miner at Blidworth Colliery in order to train and fight as often as he did, but without doubt his success as a boxer was good for moral in the village and made George very popular with workmates and Colliery Management alike. George began to turn in scintillating boxing performances, and went on to learn a lot and gain confidence. He recorded more than 20 consecutive featherweight wins against good opposition. In 2 trips to Guernsey George beat both featherweight and flyweight champions. He went to Belfast and lost a disputed points decision against Freddie Warnock the Irish Champion, later he drew against Billy Charlton, Northern Area Champion over 10 rounds. In 1938 George was contracted to fight in Germany but with war clouds looming he was wisely advised not to go. Professional boxing in those day was a far cry from what it is today, for George received anything from £2 to £2.10s for a 10 round bout and as much as £5 for a 12 round bout, and he had to travel as far away as Great Yarmouth returning to Blidworth at 5am and being at work as a miner by 6.30am. He had no regrets at being a boxer and thought that the present day boxers showed the lack of experience that he gained from appearing in small halls and boxing booths that were so popular during his boxing career. George remained a very active member of the Nottinghamshire and Derbyshire Ex-Boxers Association.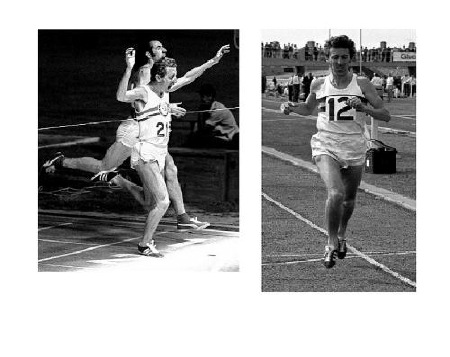 John Whetton was born on the 6th September 1941 in Mansfield Nottinghamshire. At the age of 12 John attended Brunts Grammar School in Mansfield and joined Sutton in Ashfield Harriers. It was during the next few years that John began to show his potential as a world class athlete. At the age of 17 John met Bill Coyne from London at a coaching weekend. Bill began to advise John on his technique, initially by post, but later Bill put John through some seriously tough training sessions in Regents park in London. In 1960 John gained a place at Manchester University where he met Ron Hill who was 3 years older than John and was beginning his Ph.D in Textile Chemistry. They trained together 2 or 3 times a week at the University track and at the playing field at Fallow Field where Ron lived. After his time at Manchester University John went to Loughborough for one year where he met coach Geoff Gowan who continued to train John and prepared him for the Olympic Games in Tokyo in 1964. John was one of 3 British athletes that year who competed in the 1500 metres, the other 2 being William McKim and John's fellow Sutton in Ashfield Harrier club mate Alan Simpson. Alan Simpson and John Whetton qualified through to the final in Tokyo, John's time being 3:44.2. In the final John achieved a personal best of 3:42.4. John is best noted for winning gold in the 1500 metre event at the 1969 European Athletics Championships and for reaching the 1500 metre final in both the 1964 and 1968 Summer Olympics. In 1966 at the European indoor games at Dortmund John took first place and won the gold medal by beating Oleg Rayko by 3 seconds and went on to retain the European indoor title for a further two years. In 1968 John represented Great Britain in the Olympic games and finished in 5th place in the final. At the Indoor Championships in Madrid John won the gold medal by finishing in first place. In 1969 at the European Championships John won the 1500 metres in Athens, beating Ireland's Francis Murphy to take the gold medal.
John has lived in Ravenshead for many years now and is certainly a worthy Local sporting legend.