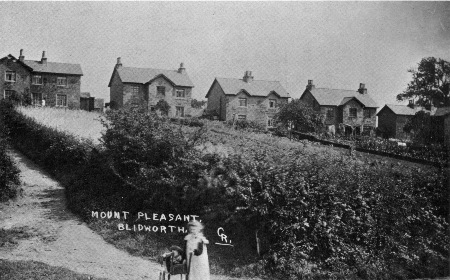 The row of cottages once known as Mount Pleasant were at one time the most easterly houses in Blidworth village. Natives of Blidworth can tell of characters who lived on Mount Pleasant.

One was George Goodall who came to the village as a foundling and was brought up by a family at Norwood Hill Farm. He himself became a farmer - then retired in old age to live in the end house on the left in Mount Pleasant.
He kept hives of bees and seemed to have a way with them. Known for his practical help and quiet advice he was greatly respected.

Jack Hayes was a jack-of-all-trades, most often recognised by the box of ferrets on his back he would volunteer to do anything from marking out the cricket pitch to mowing grass in the churchyard. He was a regular member of the team that visited farms threshing corn and when Stocks' steam engine, threshing-drum, straw-picker and chopper chuffed through the village it was a matter of pride that Jack should steer the engine at that time.