For our next monthly meeting on Tuesday October 3rd Mr Bob Massey returns as our main speaker for the evening. Bob came to visit us last year and gave a talk entitled "The Victorian Holiday" and how our ancestors enjoyed their leisure time. This time Bob will be concentrating on leisure time spent closer to home and "Nottingham on Sea" will focus on the popular holiday resorts along the east coast where many miners and their families spent their annual fortnight away from home.Skegness owes at least part of its success to the effects of one of the best known posters that have ever appeared to promote a seaside resort. This is the famous 'Jolly Fisherman' poster designed by John Hassall in 1908 with its slogan - Skegness - is so bracing! The poster was originally designed to advertise special offers of Great Northern Railways (GNR) excursions from Kings Cross in London to the resort and these proved so successful that around 300,000 people visited the resort annually at that time. May 1989 saw the unveiling of the new Jolly Fisherman statue in the Compass Gardens. The Jolly Fisherman is now the official mascot for Skegness and celebrated his 100th birthday in 2008.


Bob Massey is a retired Theatre Consultant who has planned many theatres and performance spaces. Alongside his consultancy work he was, for 30 years, Technical Manager of a Theatre in Nottingham, managing shows and organising events for the visiting artists. He is also a Historian with an interest in Local History and World War Two Air forces as well as the history of the Moving Image and of course theatre subjects. He has taught at various universities and colleges around the country, and is a qualified tutor and Lecturer. As well as a member of Local History Groups, Bob is also a member of cinema, theatre and aircraft research groups including industrial organisations serving on many committees. He has taught local history, computer and theatre subjects on courses around the country for over 30yrs and regularly writes articles on these subjects for magazines and trade publications. Bob has appeared in programmes on television and radio on local history projects as well as in the local press.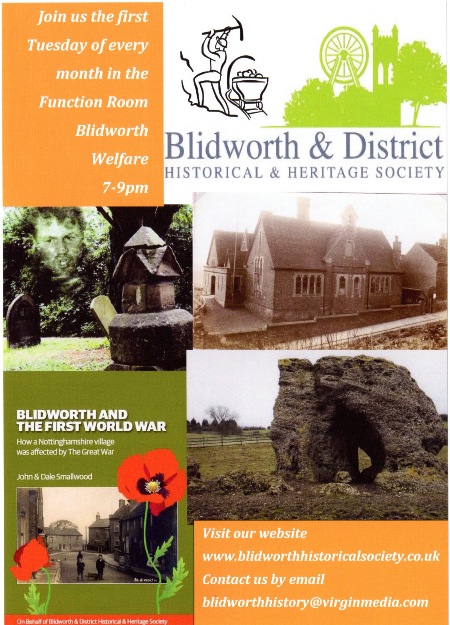 The Blidworth and District Historical & Heritage Society continues to meet on the 1st Tuesday of each month with a starting time of 7pm and the meetings normally end at 9pm.
Our monthly meetings venue is now in the Function Room Building at Blidworth Miners Welfare.
Car parking is free courtesy of the Welfare Management Committee.

All members and non members are very welcome and audience participation is encouraged.

If you are interested in joining us, want to know more about Blidworth and the surrounding villages or are just curious about what we do,

We can be contacted by email (see poster opposite)
You can also follow us on Facebook and twitter

We would be extremely grateful to hear from anyone possessing old photographs, documents, or memorabilia and who would be willing to donate or loan them to the Society.