See the message from the Committee about future meetings below:
7TH SEPTEMBER 2021 PUBLIC MEETINGS RE-COMMENCE
BLIDWORTH MINERS WELFARE FUCTION ROOM, MANSFIELD ROAD, BLIDWORTH, NOTTS
DOORS OPEN 6.45PM
SPEAKER STEPHEN FLINDERS "TERROR FROM THE SKIES" 7PM
REFRESHMENTS
WELCOME EVERYONE!

July 2021 update to current situation surrounding public meetings reconvening:

PLEASE NOTE:
Blidworth History Society committee have decided NOT to hold a full member meeting on Tues Aug 3rd.
Despite the relaxation of the imposed restrictions, due to the recent significant increase in Covid19 infections and hospital admissions we have reluctantly decided to cancel and review the situation in September.
Member's safety is our main concern and we look forward to welcoming everyone back to the Welfare function room as soon as possible.
The Committee
Hi
As you are aware, since March 2020 the Societies monthly meetings have been cancelled due to the Covid19 virus restrictions and this message is intended to explain the current situation, the work that our committee and officers have been involved with since lockdown and our hopes and expectations for 2021.
At the present time we cannot be certain of the restrictions that will apply in 2021, and therefore we are only able to keep you informed of what we hope may be feasible.
The Blidworth Welfare management are taking advantage of this down time to carry out some remedial work inside the Function Room where we meet. Our committee recently inspected the work in progress. We have not been advised of a completion date for the work but we are assuming all will be completed by the end of December.
The advice from the Nottinghamshire Local History Association is that all local history groups should not consider meeting as groups until at least January 2021 and we are obliged to follow this recommendation.
Our committee have been utilising the Zoom app for regular meetings since the lock down and continue to answer queries from people with Blidworth connections regarding their family history.
The last members meeting was our AGM in March. At that time several attendees paid their annual members subscription and this of course will be held over until March 2021.
We have also instigated a monthly news sheet that is circulated by email to interested groups and individuals who request a copy. Please advise us if you wish to be included, its available to anyone.
We are contacting all our members to keep them updated, but if you have not received an email or letter from us and you are a member of the Society contact us at
blidworthhistory@virginmedia.com to check we have your correct contact details
The email is being sent to all members that we have an email address for but please pass the information on to any member who may not be connected.
Take care and stay safe, best regards,
Your Committee.

For the Immediate future and until further notice our monthly member's meetings are postponed due to the Corvid-19 virus restrictions. Please continue to enjoy our website and any comments are always welcome. Contact us by email at "blidworthhistory@virginmedia.com"

Stay safe and healthy.

Our monthly meetings take place in the

Function Room at Blidworth Miners Welfare.

We continue to meet on the 1st Tuesday of each month with a starting time of 7pm and the meetings normally end at 9pm.

Refreshments are provided and there is a small charge of £2 at the door

Our guest speaker is chosen from a group of dedicated and well qualified individuals

Car parking is free courtesy of the Welfare Management Committee.

All members and non members are very welcome and audience participation is encouraged.

If you are interested in joining us, want to know more about Blidworth and the surrounding villages or are just curious about what we do,

We can be contacted by email at blidworthhistory@virginmedia.com

You can also follow us on Facebook

We would be extremely grateful to hear from anyone possessing old photographs, documents, or memorabilia and who would be willing to donate or loan them to the Society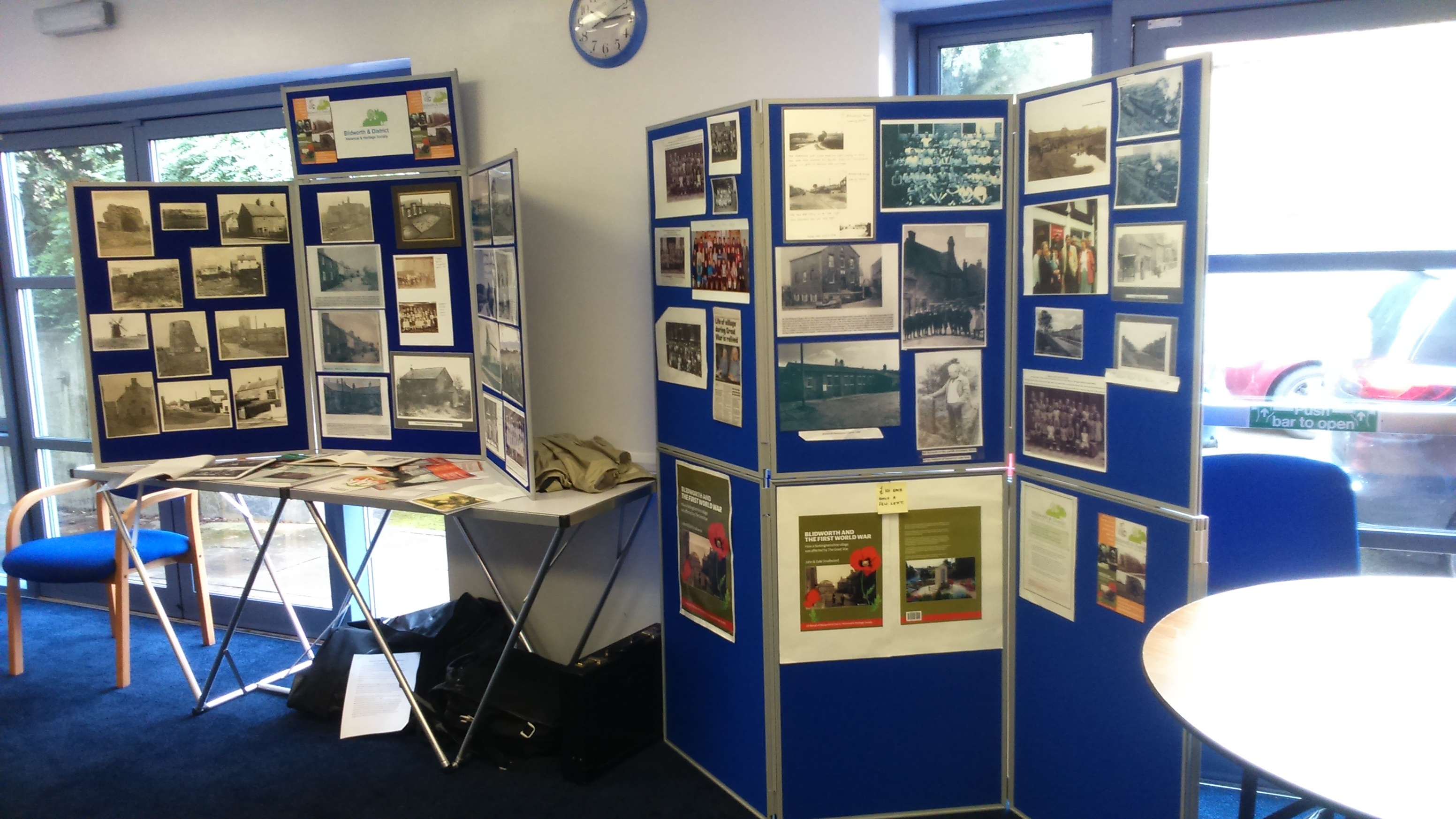 We regularly exhibit at events held locally such as the Annual Nottinghamshire Local History Exhibition at Mansfield Library. Blidworth Parish Council's Summer Fair is another of the shows that we never miss.
The Blidworth Community Association hold their public events at the Sherwood Forest Community Church and we are always there. Please let us know if your group need us to give a presentation or exhibit our collection of photographs and memorabilia etc.
You can e-mail us at
blidworthhistory@virginmedia.com
Follow us on facebook
This new website can be added
to your favourites and will be updated regularly as information is transferred from the previous version
www.blidworthhistoricalsociety.co.uk
Also
See our Upcoming Events Page