SEPTEMBER 2021 NEWS SHEET
Welcome back! Our first meeting of the 2021/22 season will be on Tuesday 7th September 2021 at Blidworth Miners Welfare, Mansfield Road, Blidworth, Notts NG21 0LR we hope you can join us for a look at what we did in the 2020/21 season and early in the 2021/22 season.
On the night, doors open at 6.45pm and we respectfully ask you to complete a track and trace document for the Society's use; wear a mask on arrival and whilst moving around the building (unless you prefer not to); hand sanitizer is available for your use; seating will be arranged so that social distancing can be observed; refreshments will be provided.
Timetable:
Registration 6.45-7pm
Speaker for the evening: Stephen Flinders Terror from The Skies
Refreshments (if you prefer you could bring your own cup? But disposable ones will be available)
Concluding session 9pm
Looking forward to seeing you again and catching up on what you've been doing or are interested in looking into.
During the week from 10th to 19th September INSPIRE has programmed 2 free events -the heritage walks in Mansfield and the talk about Tom Simpson at Worksop Library.
Selected INSPIRE libraries will also be celebrating all things relating to food from the past by holding Heritage Cafes. This is a chance for INSPIRE to showcase material from their local heritage collections related to the theme of "Edible England", and a great opportunity to chat with local people and share memories of the food we loved, or loathed, in the past.
• Beeston Thursday 16th September 10.30 – 12.30.
• Bingham Tuesday 14 Sept 1.30-3.30
• Mansfield Tuesday 14 Sept 11-1pm
• Mapperley Tuesday September 14th 10.30 – 12.00
• Newark Tuesday 14th September 10-11.30am.
• Retford Tues 14 Sept 2-3
• Sutton Friday 17th September 10.30-12 • West Bridgford Thursday 16th September 2- 3pm
• Worksop Tuesday 14 Sept 11-12
• (Cotgrave and Kirkby-in-Ashfield still to be confirmed).
Heritage Open Day Festival: 10th – 19th September 2021
https://www.heritageopendays.org.uk/
POETRY PLACE THE EXHIBITION
Inspire Poetry Festival. Mansfield Central Library; Saturday 18 Sep – Sunday 31 Oct; FREE
In partnership with the Miner2Major Landscape Partnership Scheme, supported by The National Lottery Heritage Fund.
The Inspire Picture Archive makes it easy to browse and download over 22,000 historical images of Nottinghamshire. The collection includes our wonderful photographs from the Raleigh Cycle Company. From factories, to advertising, to social outings to the seaside; the Raleigh collection represents the best of Inspire's Heritage images. Get involved to add keywords or comments to the images and share links on social media.
Check the Archive out
Inspire Pictur
e Archive | Inspire - Culture, Learning, Libraries (inspireculture.org.uk)
Photos and documents from our archive donated by Hilda Keene, showing the Blidworth Community Centre Gala, held at the Blidworth Miners Welfare (when the old building still stood).
Looks like great times were had by all.
This month don't forget the Blidworth Parish Council's Gala on Sunday 19th September 2021!
Blidworth Welfare 12noon – 4pm; stalls and a scarecrow competition (Blidworth locations only for judging Purposes).
See you there folks lots of exhibits to show you.
Recently we were contacted by Andy Barrett;
"Hello
I'm starting work on a project in collaboration with the Notts Library Service based on gathering stories to create a series of seven audio walks in the Sherwood Forest area. These will be based in and around the towns and villages of Clipstone, Edwinstowe, Ollerton, Rainworth, Ravenshead, Newstead, Papplewick, Hucknall, Calverton, Blidworth and Linby.

The aim of the project is to create a series of stories based on past and contemporary experience that evoke the diversity of the area, in terms of work and culture. These will not be audio tours or heritage trails but fictional stories that are based on the histories of these towns and villages, and peoples contemporary experience of living in these places.
I'm very interested in how people engage with a sense of place and of how we construct and understand this, and also in delving into more hidden histories that often run alongside more dominant narratives."
Andy is just starting this project and is interested in meeting with people who have stories to tell. Check out the Inspire website for more information
Sherwood Voices | Inspire - Culture, Learning, Libraries (inspireculture.org.uk)
A possible spot to concentrate on is Rainworth Heath – formerly known as the Bogs!
Rainworth Heath is part of the historic Sherwood Forest area and it is one of the last remaining areas of heathland in Nottinghamshire.
Located on Rufford Pit Lane (now called Petanque Way), Rainworth, Notts, NG21 0HR
The Nottinghamshire Wildlife Trust is the county's leading conservation charity run by local people for the benefit of local wildlife, with nature reserves across the country and Rainworth Heath is one of their sites.
Our resident naturalist, author and poet Mr John Wood has written many books about the area of Rainworth such as, "The Adventures of Edgerley Ogerley" and spent many a day roaming around Rainworth Heath etc. the stories and poems he can tell many of which we have in our archive.
Ravenshead Library's opening hours from early September will extend to be:
Tues & Thurs FULL days from 9.30-6pm (an hour lunch closure 12.30-13.30);
Friday 9.30-5.30pm (an hour lunch closure 12.30-13.30);
Saturdays AM only 9.30-12.30pm;
Address: Milton Court, Ravenshead, Nottingham, Notts, NG15 9BD
We are working with all our local libraries who have generously allowed us to display some of our archive within their premises. We hope to make access to the society's archive easier and provide snippets of our local history amongst the many local interest material already in situ.
The libraries, dependant on space and time available are working with other partners such as Miner2Major; Sherwood Voices; and many more to give you more access to events and material that may be useful to you in your historical and heritage research, whether for family history or just to get to know the area you live in more intimately.
Check out the local history section, on the top floor (stairs and lift are available) and check out the stock of old photos, maps and the many books written by local authors, such as Philip Jones.
Check out our display about the history society that will soon be in place and for additional items that we can place, from our archive within the library for people to be able to see.
All Inspire libraries have some material relating to their own communities, but the 14 larger ones have much more extensive collections. These contain some core material of countywide interest but the focus is on the immediate local area. Several libraries feature specialised collections relating to themes of wider interest such as DH Lawrence, Lord Byron and the Mayflower Pilgrims.
Help is available from library staff, supported by a Heritage team, to explore the information and resources we hold. Please contact via your local Inspire Library or the
Ask Inspire service.
An extract from Harry Clarke's diary:
"Sep 30 Mon 1946
Just come from the sale of the Harvest festival gifts. Ewart Smith is the auctioneer. Before the sale there was a service given by the children. About 21 children recited, the girls were dressed up with flowers & leaves. It was called, "GOD's Garden". The children were trained by Mrs Talbot, Rene Clarke & Alice Houldsworth. The children came in singing a hymn & went up into the choir seats. Three boys represented trees, Oak, Ash & Beech, they were Victor Smith, John Drabble & Len Warnes, four girls were colours, Ann Day, Dorothy Baxter, Helen Gibson & Ruth Johnson. Betty Scofield, Dorothy Knowles; Pansy, Roses.
David Scofield, Johnson Margaret half were bird, bee & butterfly; the butterfly was in yellow with yellow wings. Joan Drabble, Pat Fairless, Johnson Johnson were fruit; apple, pear, plum.
Donal Cartledge & Ray Harris were Sun, wind, rain. Trudy Fairless & Jane Roberts introduced it.
Almost a month ago we took the children to Tuxford where Mr Blackwell is, we went to the school & had games in the playground. Went on a Tuesday at 4.30 & got back at 9. Mrs Fairless made some buns & we all had one each & some lemonade, Mr Blackwell gave us some pears. I sat against Joan Drabble & Pat Fairless. Pat & David Scofield sat on my knee.
The weather has been awful Rain all the time, acres of corn ruined, never been a time like it for years.
People have been taking over houses, flats & army huts that are empty. The government appealed to them to come out of private buildings such as flats but they barricaded themselves in & threw whitewash at the police; they did after a few days come out. The papers called them "squatters".
Felt very depressed lately I have a slight rupture, how I got it I don't know, also my knee has troubled me since Whitsuntide. This job that I'm in is a nuisance I can only get to one night service every three weeks. I hate to work Sundays.
One Sunday I go from 12 noon till 9pm the next Sunday 6pm till 6.30am Monday morning. The following Sunday I have off, but I've been at work all Saturday night & I only get 2hrs sleep from 7am till 9am as I must be at Sunday school at 10am then service at 10.45 till 12, school at 2.0 till 3.0, service at 6.0 again so no more sleep till 11.0pm."
Soon be harvest festival time again this year.
AUGUST 2021 NEWS SHEET
Our Society are the custodian of thousands of historical and heritage items, such as diaries, letters, maps, books etc, that we have to store (digitally or in a printed format) and currently have in excess of 6,000 items. These items cover all of our community within the villages of Blidworth, Rainworth and Ravenshead and we want to ensure they can be viewed by everyone within the community and far afield to those ex-pats of the villages, or relatives/friends of those with close connections with our community. To this end we put new information onto our website and Facebook page regularly and issue our monthly News sheet too. Now we are engaging with the local libraries to get the information to a new and wider audience too. Why not check out the local library to see our display of memorabilia and loan / read up on local history from the extensive "Local Interest" material that is on offer.
See here for opening times of your local libraries
Home | Inspire - Culture, Learning, Libraries (inspireculture.org.uk)

An ariel photograph, showing part of Blidworth, from a set of Library photos (courtesy of the Notts Library Service) depicting life and times around the 1980s, that we hold copies of in our archive.
Interesting fact about the school, seen in the centre of this photo, it was built in 1926 and it will be celebrating their centenary in 2026. Start digging folks, they will need memorabilia from the past century to display! We have a lot of material and are gathering and compiling it for their use.
The New Meadow Club
In September 197? a club was set up and held meetings in the Army Headquarters building, opposite the Blidworth library by the, then, warden Mrs Marion Johnstone. The New Meadow Club.
Marion had been searching for suitable premises for 2 years before finally securing the Army HQ building, in order for the senior citizens of Blidworth to go 3 times a week and engage in handicraft classes and enjoy a friendly social gathering.
The opening of this club was recorded in the Chad and here are some photos of the day "Blanket Coverage!" and "Grannie's Square's and the text associated with these photos, that were taken from the late Marion Johnstone's photo album and donated to the Society by her daughters, following Marion's death, aged 99 years old in 2018. Our thanks and best wishes have been sent to the family.
The nimble fingers of the Blidworth senior citizens quickly set to work by creating a beautiful crocheted blanket, that was then raffled off to raise funds for the newly funded club – wonder if the blanket is still within our community today?
The pictures show Marion and her colleague Mrs Kath Dixon the craft teacher, working with five ladies patiently putting the crocheted squares together. The 220-crocheted-square brightly covered blanket, was made from all new wool and those who crocheted the squares were ladies: L Savage; P Bristowe; G Webster; M Briggs; M Stafford; M Housley; F Bakewell and J Ulyett.
Then the squares were assembled by Mrs Kath Dixon and Marion Johnstone before being raffled off – come on community, do you know anyone pictured here; know if the blanket is still out in the community?
The club prospered having more events, such as a Christmas Bazar that was opened by Mrs K Ford Health Visitor and realised £190.80 in aid of the old people's Christmas party and summer outing. Stall holders and helpers were: Mesdames: Marion Johnstone; S. Mann; J. Davis; G. Webster; G. Baines; A. Briggs; M. McGeorge; L. Booth; C. Roe; M Stafford; P Whalley; M Edmonds; Joanne Ford and Julie McGeorge and Messrs. P Ford; A Briggs; G Booth; R Johnstone; Refreshments were served by ladies: W Davies; s Howard; and G Fryer. The following year the Christmas bazar raised £205 – brilliant, well done to all who played a part, including the community for attending and supporting the event.
There are several such clubs within our community today, if you are not aware of what is available then why not check out the Sherwood, Ravenshead newsletters to see what is being advertised;
Ask the question "What is available for me in our area?";
· those tech savvy amongst us can use Facebook or Google search;
· Local posts appear at the Churches, libraries and in local businesses too;
· Then there is word of mouth – ask friends, neighbours and family to see what you can get involved with;
· Access this website
Older people | Newark and Sherwood District Council (newark-sherwooddc.gov.uk) for more information.
·
Why not join us at the historical and heritage society – share your memories with your community either because you are from this area or you have moved into the area – what a great way to know about your new community than by learning about its history and heritage.
Many books, can be found at the library in their Local Interest section:
W Wild "A Brief Recorded History of Blidworth" Reference L90.2
Arthur Radford, local author's several books, poetry etc.

See here for opening times of your local libraries
Home | Inspire - Culture, Learning, Libraries (inspireculture.org.uk)
A photo of an article fr
om the Guardian Journal 21st March 1972 about Rainworth, (from our archive):
"The village of Rainworth, near Mansfield Notts, consisted of several small farms and several small homesteads, at the turn of the century, but began large scale expansion just before the Great War.
For in 1911 two colliery shafts were sunk in the village, bringing Rufford colliery into being, and as the pit expanded so did Rainworth."
Python Hill farm photo from our archives.
More changes came along to schooling, Church and farming.
Tribute to an inspiration – Reg Jones, a Rainworth Miner
On July 7th 1999, the Evening Post ran the story of mourner's paying their last respects to a Youth Work Veteran, Reg "Skip" Jones, who had been a major force in youth clubs at Rainworth, Arnold, Carlton and Hyson Green for over 30 years.
Reg, died in June 1999 at his home in Rainworth, aged 69. He founded Rainworth Youth Club in the early 1950s, whilst he worked as a blacksmith in the coal mines, and it was said that this quiet, gentle man with his supportive manner we befriended and encouraged thousands of young people to fulfil their potential. He was for so many – a second father teaching them much about life.
Appointed leader of Hyson Green Boys Club in 1958, he organised the yearly trip to the Isle of Wight, and six years later he was instrumental in shifting the Club's base from Archer Street (demolished during Nottingham's slum clearance) to its new site in Terrace Street. Later Reg resigned from the club to take up a post with Nottingham City Council's education department.
In 1974 Reg became the area youth officer for Arnold and Carlton which involved promoting the Duke of Edinburgh Award Scheme, but in 1988 he took early retirement, due to hip problems.
For both employments, at his farewell parties, he received glowing tributes. It was said "He always said it was a hobby and not a job", and that "One of his great pleasures was taking young people from the inner city to the great outdoors beyond the city limits and one of his passions was canoeing."
During his lifetime Reg was sworn in as a city magistrate in 1968 and also appointed vice-chairman of the governors of Lowdham Grange Borstal. The accolade made was that "He was very approachable and he was firm. He didn't take people messing about, but he was fair. He always listened to the young people."
This article cut from the newspaper was donated to the historical and heritage society by relatives of Reg, his nieces who found it amongst their mother's affects, Reg's sister Marion (Jones) Johnstone on her death aged 99 years in 2018. Our thanks to Marion's daughters for this donation and our best wishes for all the family are sent to them.
Extract from David Palfreman's "Ravenshead Memoirs" – A donated item from our archive.
"The community in the 40's & 50's. In the immediate pre-war years, 'Ravenshead' as it is known today had no identity of its own; the only reference to the name being Ravenshead Wood which was located between Blidworth Way and Kighill on the A60. Of course, the entrance to Newstead Abbey with its semi-circular stone walling and imposing finial capped piers at each end were there. The Pilgrim Oak was the dominant feature in the centre and the distinctive red mailbox had been installed in the stone wall with a plate if I remember correctly showing the collection time as 4-15pm. There were existing houses scattered amongst the trees along Nottingham Mansfield Road previously known as ' The Main Road', between what is now Blidworth Way, formerly 'Papplewick Lane', and Larch Farm which has maintained its identity. The Hutt Hotel of course, dates back centuries and has been well documented elsewhere. Longdale Lane, although tarmacked, was only just wide enough for two vehicles to pass and there were only rough grassy verges each side with no footpaths. There were productive hazel nut trees where the entrance to the Hutt car park is now located, and the building now forming the upper part of The Hutt Farm Court existed from earlier days and was known as Mitten's Farm. Although well fenced, there was a barn and a very large apple tree located just below and if we were lucky, we could find windfalls in the long grass under its expansive branches. During the war, at the top of Longdale Lane on the 'triangle', piles of grit were stacked for road mending and on Sundays, an ice cream van would park which was well patronised even by residents living some distance away. I recall that Scott's appeared one week and Bristow alternated with Divit's the next. It was interesting to note that Divit's had changed their name from Divito's because of the Italian connections and wartime implications. Wafers were the favourite ices; the thicker ones being 6d (2~p today) and the thinner ones 3d each formed in adjustable moulds. There was also a lone signpost which had brackets for four signs all of which had been removed for security reasons in case of possible wartime invasion from enemy forces. After the war, it was nice to see the signs returned and indicate 'Newstead Abbey – 1 ½ Mansfield 4, Nottingham 10, and Oxton 6, once again. From the triangle on the left was 'the ginnel' affectionally known as the 'jitty and was a wooded footpath linking the Abbey Gates with Sheepwalk Lane. This public right of way still exists and emerges on Sheepwalk Lane more or less opposite Church Drive. Folklore has it that this was part of a route taken monks and pilgrims in olden times travelling on foot from Newstead Abbey to Southwell Minster. Passing down Longdale Lane, the old bungalow on the left was owned by Mrs. Simpson who occasionally would give us one or two of her lovely sweet apples from her orchard at the back which was quite a treat for youngsters in those days. Below the ginneJ was Mr. and Mrs. Hinton's house in the trees. At that time, they owned the whole of the woods flanked by Sheepwalk Lane and Longdale Lane down to the access to Vernon Avenue. The lower end of the woods contained a lot of tall bracken and provided an excellent play area for many of the local youngsters. Towards the corner of Longdale Lane and the left turn junction with Vernon Avenue was a fantastic sycamore tree called 'the syccy' by the locals which was perfect for climbing and I recall many an hour spent playing around in its branches. Sadly, this noble tree is no more and the many initials and dates etched into its bark by many a young lad, have been lost forever. Hinton's wood as it was known, was a haven for various forms of wild life and I remember a green woodpecker making its nest in a dead birch tree trunk and hearing the tap of its beak echoing round the wood. There were more lesser-known species of bird to be found nesting there such as the nuthatch and wren but the more common varieties such as sparrows, blackbirds and wood pigeons for example, could be seen in abundance. There was also a wide range of fungi to be found on trees and on the ground including the dreaded stinkhorn which lived up to its name if accidently disturbed. At night and especially in winter, Longdale Lane was very dark with the only dim street lamps located outside Hintons, just below Mitten's farm, and on the patch of ground outside no. 18 Longdale Lane. In the very early days, these lamps were gas lit and a man came round on his bicycle with a light on a long pole to ignite them manually although I think the particular street lamps in question were converted to electricity very early on in the war. Beyond this. There were no more street lamps until approaching near to Kighill, and if my memory serves me correctly, there were no lights at all up Vernon Avenue or Sheepwalk Lane. The late thirties saw the beginning of housing development further down Longdale Lane between nos. 18 to 40, nos. 2 to 30 Sheepwalk Lane, and to the top of the first section of Vernon Avenue between nos. 1 to 10 inclusive, but further work ceased at the outbreak of war. From what is now Hutt Farm Court, there were no footpaths just grassy banks on each side of the road and on the right, there was a rough hawthorn hedge with open fields beyond stretching up to the 'main road' or A60 where horses grazed."
By courtesy of David Palfreman.
More information about Ravenshead (Fishpool) of the past can be found in the following:
A book written by Philip E. Jones that can be borrowed from both Blidworth and Ravenshead libraries (Ref no L90.2).
"The introduction reads:
Ravenshead is situated about four miles south of Mansfield and ten miles north of Nottingham. The village grew out of a number of distinct residential areas in the 20th century, including Fishpool, Larch Farm, Abbey Gates and Kighill, which formed parts of the parish of Blidworth and the Liberty of Newstead. The names Ravenshead and Kighill for parts of the area can be traced back to at least the 12th century. Much of the area was originally covered by large tracts of sandy heath, consisting of gorse and heather, interspersed with deciduous woodland of oak, silver birch and sweet chestnut. With the enclosure of land and improvements in agriculture in the late 18th and early 19th centuries, new farms were built and the hamlet of Fishpool was established with the building of sixteen cottages on Fishpool Hill (now Robin Hood Terrace) about 1833. (A photo behind Robin Hood Terrace from our archive)
Most of the development in the area did not take place until the First World War. The first houses to be built in the Abbey Gates and Larch Farm areas on Nottingham Road, Main Road, Sheepwalk Lane, Vernon Avenue and Longdale Lane, in the 1920s and 1930s. Large-scale building did not commence until about 1952, with the greatest increase in housing occurring in the 1960s and 1970s, when the estates on the north side of Longdale Lane were developed. A new ecclesiastical parish was formed in 1971 and a civil parish in 1987. In 1966, when the area became known officially as Ravenshead, there were about 3,000 inhabitants. By 2001 the population had increased to 5,636."
By courtesy of Philip E. Jones
POETRY PLACE THE EXHIBITION
Poet, Sue Dymoke led a series of online workshops, with local people to create poetry inspired by old photographs of the Sherwood Forest area saved in the Inspire Picture Archive.
See the fascinating results in this exhibition, which launches during Inspire Poetry Festival. Mansfield Central Library; Saturday 18 Sep – Sunday 31 Oct; FREE
In partnership with the Miner2Major Landscape Partnership Scheme, supported by The National Lottery Heritage Fund.
The Inspire Picture Archive makes it easy to browse and download over 22,000 historical images of Nottinghamshire. The collection includes our wonderful photographs from the Raleigh Cycle Company. From factories, to advertising, to social outings to the seaside; the Raleigh collection represents the best of Inspire's Heritage images. Get involved to add keywords or comments to the images and share links on social media.
Check the Archive out
Inspire Picture Archive | Inspire - Culture, Learning, Libraries (inspireculture.org.uk)
July 2021 NEWS SHEET
World War 1 was also known as WW1, the Great War and the First World War.
Beginning on July 28th 1914 it lasted for over 4 years, ending on November 11th 1918.
At Sherwood Pines there is currently this "Life in the Trenches" exhibition that allows some insight into what a trench would have looked like along with some interesting facts such as:
9 out of 10 soldiers survived the trenches.
The youngest British soldier to join up was 12 years of age!
The story of Blidworth and WW1 is told in John & Dale Smallwood's book.
**Blidworth and the First World War can be purchased from the Society; Cost £10 non-members or £8 members (Plus P&P).
Plus, the names of those who are remembered, in silence, but not forgotten, can be found on the War Memorial in Blidworth and their stories retold in Tom Murray's book, "Remembered in Silence".
Blidworth's own Adam Clarke (Uncle of Harry Clarke – diarist) wrote to his family back in England from France on 28/12/1916, and this letter is held in our archive and has been transcribed:
"REPLY TO: Pt A Clarke NO: 625121 Dec 28th 1915 6
Shorncliffe Canadian Headquarters C.T.D.
Dear Brother & Sister Niece & Nephew Just a line to let you know how I am getting along. I have been down to Hastings since the last time I wrote. My work has been Guard Duty all the time. I have been going to and from Dover to Havre in France on transport & returning to Southampton with Prisoners of War. The most miserable objects you ever saw. There are 50 guards on each boat with fixed bayonet and ball ammunition. I feel sometimes like having a shot at one. I have been trying to get a pass for 6 days but I can't get one yet. They don't seem very anxious in giving us a pass. Because we are over Age for France. I am in the best of health at present hoping that you all are the same. We had quite a good time this Xmas. Hoping you all had the same & wishing you all a happy and prosperous New Year.
From your loving Brother,"
Adam survived WW1 but we do not know what happened to him later in life.
The current news about the withdrawal of troops from Afghanistan, brings our thoughts to remembering a 19-year-old Blidworth man:
Private Andrew Barrie Cutts
The Royal Logistics Corps
Killed in Action 6th August 2006
"On Sunday the 6th August, Andrew and five hundred comrades took part in a massive operation against insurgents, who were holding positions in the notoriously dangerous Sangin Valley. Operation "Snakebite", was to offer protection as paratroopers laid siege on Musa Qaleh, in Helmond Province, a village was known to be shielding high ranking Taliban supporters.
Private Cutts was chosen along with twenty-nine other comrades to act as runners, a high-profile role designed to attract enemy attentions. Andrew was the gunner on a three-man jeep crew, thus holding the most exposed role in providing cover for his comrades. At about 1530 hours, during this operation to disrupt the Taliban, the British Forces came under fire. Sadly, it was during these actions, that Private Andrew Cutts lost his life." Extract from Tom Murrays book Remembered in silence – the Society have copies for members to loan held in their library.
Our thoughts are with Andrew's family at this time and we will remember him and all those who have served or are serving. (The Society wish to thank Andrew's family for the Memorial booklet donated to the Society and to let them know it is held safely within the archive).
Last month we reported on our interactions with our friend Ron Brelsford, born in Blidworth in 1913 and who emigrated to Australia in the 70s. Sadly we had to report that Ron had passed away on the 6th of June 2021. Our thoughts and condolences are with Ron's family at this time.
Here is the remainder of the memoir document Ron sent us earlier this year:
"When I was 18 years old, I bought a driver's licence as you did back then - no tests or anything - and a man offered me a job working for an Indian millionaire named Sir Julian Khan who owned a chain of furniture stores. It was my job to deliver all the company cars which were Morris Minors to all the employees all over England.
Then the second world war broke out when I was 26 and I got a job in the army, not with the forces but actual employment. My job involved delivering all of their supplies all over the place. Tents, uniforms, even tanks and weapons. That job went on for the entirety of the war.
The next 21 years I worked down a coal mine. It was not a great job but it paid the bills.
One of the members of the Male Voice Choir had three daughters. The oldest one was called Gladys. She was four years younger than me. We married and had three children. Our youngest son Alan lives in France, our daughter Ann lives up in Mossman in Queensland, and David lives here in Legana.
Our daughter Ann emigrated to Australia with her husband, and two years later she convinced our eldest lad David to also move here, which he did as a single man aged 22.
Around 1970, Ann had a serious illness and almost died. Gladys sat me down and said "We are going to Australia to be with our Ann." So, at the age of 57, we moved to Sydney. I got a job with Avon Cosmetics as a cleaner at their factory and stayed there for 7 years until my retirement.
I tried smoking a pipe once when I worked on the farm, and I was sick for the rest of the day. I haven't touched tobacco since. I have never drunk alcohol: the smell of it puts me off. Workers from coal mines are notorious for having lung and health issues but I managed to escape all that thankfully. I think my singing helped to keep my lungs healthy and free from disease.
Gladys and I were married for 62 years before she passed away. Things start to fall apart as you get old. I had glaucoma and had to have laser eye surgery which didn't go too well, so I am blind in one eye now. Other than that, I am a pretty healthy 107-year-old. I received a letter from Vera Lynn when I turned 100 which was a big thrill.
It seems that I am now the oldest person in Tasmania, and the seventh oldest man in Australia.
After living on NSW's Central Coast for many years, Dave wanted me to be around him as it became very hard once I stopped driving, so here I am.
I live with Dave and his lovely wife Anne now in Legana. I like to listen to music during the day – Dave has a good collection of CDs – and every evening we play scrabble. I have nine grandchildren and twelve great-grandchildren at the last count. The youngest one was born only three months ago but I haven't seen him yet. Hopefully they can come over from Melbourne once the restrictions have been lifted. Family is everything in this life". April 2021
Rest in peace Ron thank you for sharing your memories with us. We hear your family were able to take part in the streamed service from Tasmania, that we are sure was comforting for them.
Well dressing is a tradition practised in some parts of rural England, in which wells, springs and other water sources are decorated with designs created from flower petals.
The custom is closely associated with Derbyshire, Peak District and Staffordshire. Tissington, pictured here has the tradition taking place back to 1348. Although the origins are obscure, it has been speculated that it began as a pagan custom of offering thanks to gods for a reliable water supply; other suggestions include celebrating the purity of the village's water supply after surviving the "Black Death"; or celebrating the water's constancy during a prolonged drought.
Will Richards records: "Water supply is all-important to any settlement, so the first dwellings in Blidworth were close to the springs of water just to the East of the top of Blidworth hill…"; and "It was found that during excessively dry Summers the springs near the top of the hill dried up. Deep wells were dug through the sandstone into the reservoir of water beneath";
Many of the miners and their families in Blidworth came from Derbyshire villages, and although settled into relatively "modern" accommodation (not needing to use wells) compared to the original housing within the village, would have seen or known of the Well Dressing that happened just across the County border.
This photo shows one of the 15 wells dug in Blidworth found at end of Surgery Lane, taken from Will Richards book "Blidworth in old postcards".
Later the War memorial was built to the right of the well and the floral display is wonderful to see in these dark and difficult days, as we begin to exit out of lock-down.
England remains in Step 3 - The government has announced a 4-week pause at Step 3. Step 3 restrictions remain in place, and you should follow the guidance on this page, which explains what you can and cannot do. (COVID-19) Coronavirus restrictions: what you can and cannot do - GOV.UK (www.gov.uk)
It is expected that England will move to Step 4 on 19 July, though the data will be reviewed after 2 weeks in case the risks have reduced. The government will continue to monitor the data and the move to Step 4 will be confirmed one week in advance.
Blidworth held their own well dressing one year and doesn't it look great?
Lots of hard work went into preparing it.

Wouldn't it be a great idea for next year once we are out of lockdown?
Extract from "Rainworth" written by James Spinks in 1987

"Little seems to be known about Rainworth until the Sixteenth century when there was only Thirteen dwellings, the first being Three thorn hollow farm, six in the old square now Ramsden Croft, Two on the main Southwell Road, Lake farm, a Toll House and weigh Bridge, the Nurseries and the Sherwood Inn, now the Robin Hood public House. The Robin Hood was altered from a Farmhouse and Inn during 1904 to an imposing Victorian type place, it was later altered again in 1966 when it was equipped with a new Bar and cosy lounge. In the year 1771 the Inn keepers name was John Ramsden and his family."
"For many years water had to be delivered to the station in Milk churns until a piped supply was put in."
"In 1895 Mansfield Corporation built a Waterworks off Southwell Road near their Boundary. It was demolished in 1956 to be replaced from steam power with all electrically powered generators to pump up the water supplies from a depth of 200 feet or more. Before the Waterworks the early residents of Rainworth drew water from a well at the old square (Ramsden Croft) also the Toll house until a cat fell into it, then they had a mains supply connected, the Nurseries had a pump the Robin Hood had Two, One inside the Kitchen, the other outside for traveler's animals."
The wells are covered over by now, but we have Rainworth Water running through the village and L lake, so an idea for next year could be Well Dressing in Blidworth, Rainworth and Ravenshead too?

There are some well dressings taking place this year, check out this site for the places and dates to visit
Derbyshire Well Dressings
This Society had HOPED TO HOLD our first meeting in August BUT PLEASE NOTE:
Blidworth History Society committee have decided NOT to hold a full member meeting on Tues Aug 3rd.
Despite the relaxation of the imposed restrictions, due to the recent significant increase in Covid19 infections and hospital admissions we have reluctantly decided to cancel and review the situation in September.
Member's safety is our main concern and we look forward to welcoming everyone back to the Welfare function room as soon as possible.
The Committee
Soon we hope to welcome you to our public meetings held at Blidworth Miners Welfare Social Room, Mansfield Road, Blidworth Notts NG21 0LR; doors open 6.45pm for starting at 7pm. Refreshments provided.
We welcome all our members back and announce that in acknowledgement of Covid19 disruption and our shortened 2021/2022 season that the committee has decided that membership and attendance fees will be amended for all for the 2021/2022 season:
· All those members who paid their membership at AGM 2020 will have that membership carried forward to the 2021/22 season; and pay nothing for attending the first meeting; but thereafter paying the usual £2 attendance fee;
· Those members who didn't pay their membership at AGM 2020 will pay £3 membership and £2 attendance fee for the 2021/22 season;
· All attending for the first time, are welcome and on the night will pay £2 attendance as usual; after their 2nd visit, we would ask they pay membership (normally £5 for the year) but at the amended 2021/22 season £3 membership and continue paying their £2 attendance fee until the end of the season;
JUNE 2021 NEWS SHEET:
In February 2021, Marjorie Eyre, resident of Ravenshead since 1960s, celebrated her 100th birthday! An active member of several local clubs/institutions such as the Women's Institute (WI) and the University of the 3rd age (U3A), Marjorie was also a teacher at the Blidworth County Council/ Robert Jones' school for over two decades, and a Ravenshead Parish Councilor instrumental in establishing the Village Hall in Ravenshead, of which she is still a Trustee. Despite Covid19 lockdown, Marjorie enjoyed her day with events arranged by family, friends and with many of those clubs she's still active in. The Ravenshead Newsletter, Hucknall despatch and East Midlands Today, all captured and recorded the celebration of Marjorie's wonderful life.
East Midlands Today introduced her as "marvellous Marjorie" when appearing on the topical news show, and in the Hucknall Dispatch on 10th March 2021 they recorded that Marjorie said, "I've had a marvellous life" and that "her guiding influence in her life have been family and friends".
Contact was made with Marjorie, via the WI and our Secretary met with her and some ladies of the WI for what could only be said to be the most wonderful and interesting afternoon. At that meeting guidelines were established for further engagements to explore not only Marjorie's life, and its impact on our community, but also the exploration of the work of Ravenshead WI (plus hopefully Blidworth & Rainworth too), who have celebrated their 50th anniversary in 2015, within our community.
We both recorded and took notes of the meeting, and will be publishing an account soon, but we wished to acknowledge Marjorie's 100th and thank her and the ladies of the WI for meeting with us and agreeing to more interactions.
Further to last month's article about the wonderful discovery of the air raid shelter excavated in Blidworth, here is an extract from Harry Clarke's diary 1940:
"June 5 Wed
Had my 4th A.R.P. lecture at Pit each one lasted an hour some longer. Today it lasted 1 hr 30 mins, today it was First Aid. Jim earthed up 13 rows of potatoes. Lettuce doing bad & dwarf beans. The evacuation from Dunkirk is amazing. At Rufford there are barbed wire entanglements round Powerhouse, winding engines & shafts. Workmen are on patrol with rifles every night. A man summoned at Mansfield for spreading false rumours, fined £10 & 5 guineas costs.
June 7 Fri
Air Raid 3 A.M. bombs dropped in Lincolnshire. A plane went over Blid, at this time, people said after it was a German.
June 18 Tues
Had a certificate from the pit to say that I was trained in High Explosives & incendiary bombs. We are learning Ambulance work now. A soldier was on duty
against the bridge at Rufford. He stopped several cars & examined them.
June 24 Mon
Went to see Mr Harris's Air Raid shelter. Sowed a row of Coleworth. Mr George Franks (Cheesy) brought me 3 score of Kale, 1 score of Brussels.
June 26 Wed
Our Chapel Anniversary. The Rev Bollomb preached in afternoon & lectured at night on, "Dismal Dicks & Cheerful Charlies".
June 16 Tues
Did a bit more at Air Raid Shelter. On Sunday June 14 I went a walk after Sunday School with the boys of my class. They were Allan Clay, Jim Francis, Harry Stones, Ted Talbot. We went to the "Druid Stone", & then straight on till we came to some fowl wire 3ft high where the stile should have been. We turned up a field & came out on Ricket Lane. I believe that footpad brings you out at Fishpool. On Monday June 15 J. Smith was called up he is at Newark. I have heard he is a Sapper. Ewart Smith who is a bit older, joined up several weeks ago. 5 Marrows forming nicely. Kidney bean row red over with flowers one lot of potatoes Gladstones have, I believe disease called "leaf curl", the leavers curl up."
This photo was donated to the Society by Alan Mosley, it shows the Rainworth Male Voice Choir in 1925, and is on display in Rainworth Methodist Chapel. Alan said: "The photo was taken in February1925 and the choir was then called the Rainworth and District Male Voice Choir, later becoming the Mansfield Male Voice Choir. On the second row, left, framed by the window, is Arthur Toon, father to Gladys Toon who later married Ron Brelsford of Blidworth.
In June 1934 Harry Clarke references the Rainworth Male Voice choir in his diary: "June 13 Wed the Rainworth Male voice Choir broadcasted from Birmingham; they were very good."
Ron and Gladys were married on 30th March 1940, and in the 1970s emigrated to Australia. During last year contact was made with Ron, who is now living in Tasmania, the oldest living Tasmanian at the young age of 107. Here is an extract from the memoir document Ron sent us earlier this year:
Ron wrote: "I became a Tasmanian at the age of 105. I was told you are only regarded as a genuine Tasmanian after you've lived here for twenty years. I'm not sure I'll achieve that!" I was born in July of 1913 in Nottinghamshire right near where the legendary Robin Hood lived. When I was 3 years old my mother died whilst giving birth to my younger sister. My father was then left to raise my older sister and I on his own which wasn't easy as he was not a well man due to being gassed during the first world war. Two years later he died. We had a lodger at the time who was a local beekeeper. He was a good man and took us kids on, as we had nobody else. Then a year later, he died. And I'll tell you this, and it's a true story believe you me. The day the elderly beekeeper died, that night he appeared at the end of my bed giving me an awful fright and I could only see his face and he said "Be a good boy". That's my only ghost story but it's a good one (laughs). Meanwhile, I was visiting my grandmother who couldn't take me in as she had her house full. I would go there for meals but I just couldn't sleep there. So, I slept at the house of anyone in the village who could have me. Everyone took turns of me sleeping on the couch. There might have been money involved from either my grandmother or the council, I'm not entirely sure. That happened for a long time until such time as my grandmother added an extra room to her house and I was able to move in there. I left school at 14 and worked on farms for a few years. Then I got a job as a gardener's boy on a big estate. This was in the middle of what is left of Sherwood Forest – Robin Hood country! On the estate were 3 huge lakes, a forest and a farm on each end. It was very big that estate. When I was 16, someone heard me singing while I was potting plants, and suggested that I join the men's choir.
I joined the Mansfield & District Male Voice choir. I also played the church organ which I had learnt from the age of seven. I have never danced in my life but used to love going and listen to the music." NB. Ron's whole memoirs are in our archives.
There has been some interest on Facebook about the Blidworth Airfield. Several of our community responded generously as usual with their own information. In 2017 the Society acquired a document that describes in great detail about the little-known Airfield that existed in our vicinity during WWII.
Here is a short extract of that document:
"In 1940, Lord Beaverbrook, the Minister with responsibility for aircraft production approached Sir Alan Cobham and persuaded him to head a team of specialists to tour the country and select suitable sites for the construction of Emergency landing grounds (ELG). Sir Alan Cobham was very well qualified for this role because between the 1st and 2nd World Wars he toured the UK with his Flying circus. One of these Emergency landing sites was laid down at Blidworth in late 1940 and duly appeared on the RAF's Flight maps in early 1941. An Army works and Building Unit moved in with their bulldozers and mechanical diggers and proceeded to carve out a landing strip in the fields beginning at Blidworth Lodge and running to the north of Longdale Lane almost as far as Chapel Lane. During those years the land that is now Ravenshead was a part of the Parish of Blidworth. During the months of June and July work was carried out to bring the ELG up the standard required. Several new buildings were constructed along the southern side of Longdale Lane opposite the airfield site and a large store and office building later became a country crafts shop. Several concrete hardstands for aircraft storage still exist. Many of these are situated in the wooded area around the ELG and acted as perfect camouflage for stored aircraft. In the copse itself were built huts for crew accommodation. Guard rooms were situated on the corner of Kighill and at each end of Longdale Lane. Longdale lane was closed to all but the existing residents. A detachment of the Green Howards was responsible for guard duties until August 1942."
Last month we asked about the "Tree":
The following two photos were taken in 1926 and show pupils from the Rainworth Python Hill School inspecting the Table Top tree and Bessie Sheppard's stone. Note the telegraph poles stretching the length of the A60 into Mansfield. Hawthorne is usually in the form of a bush or a hedge, except in this case the tree has been carefully shaped and trimmed. It would appear to be quite a mature tree even in 1926. Possibly even 20 years old, therefore incredibly, it will be well over 100 years old today. I visited the tree in February 2021 and took some measurements, much to the amusement of passing motorists. The trunk is very gnarled and shows its age. 3 metres high, 4.4 metres diameter and the circumference of the trunk is 1.3 metres.
Some years ago, Ravenshead Rotary adopted the tree and maintained its unique appearance. Exactly who this responsibility has been passed onto is unknown to us.
Success, as we've been contacted by Forest Farm Tree Services LLP 102 Kirkby Road, Sutton-in-Ashfield, Nottinghamshire, NG17 1GH.
"Good morning, one of my clients mentioned an article in the Ravenshead newsletter concerning the table top tree and who maintains it. We have been maintaining the tree now for about 25 years usually twice a year. Many years ago, when I was a relatively new company, I was at Dorothy Sillitoe's house paying my subs for an advert in the Ravenshead newsletter and she mentioned the council had not got the budget to maintain the tree anymore and it would be left to its own devices. I have always known the tree as an important landmark for the area as I was a pupil at both Abbey Gates school and Martin Roe school (now Ravenshead c of e I believe) I was born on a farm just outside of the Ravenshead district so passed the tree reasonably regularly. I said to Dorothy that I would do it as it could not be allowed to lose its characteristic appearance. We have never tried to alter its appearance as it is slightly lob sided but just trimmed off new growth. We have done it ever since. I was contacted by Ravenshead rotary a few years ago and asked to maintain it, I did explain that I already did and had been doing for many years and I have not heard anything from them since, I did not realise that they had adopted it. We intend to plant another one in the area as a replacement in case of the originals demise. If you have any further queries, please contact me.
Kind regards

J Beeley"
We are extremely grateful to know that the work has continued and will continue whilst ever Mr Beeley and his company, along with our Society remain interested in its existence. We will continue our research and hope to have a display of information found ready soon.
This Society was setup by likeminded individuals with a passion to retain the historical and heritage data of our area. Those individuals entrusted their results of years of research and documentation to us and we have over 6,000 items, held in our archive. But, as they knew, history is not stagnant and we keep moving forward through the years, learning more of our past as our future enfolds. We are grateful to all who recorded, in their own way, our history and their willingness to share.
Blidworth & District Historical & Heritage Society operating since 2009 has tried to be responsible and accurate custodians of all the history donated to us. Doing diligent research, ensuring people's recollections and reflections are presented clearly and it is noted that it is a reflection of their time, e.g., Sam Clarke's journal begins in the 1800s reflecting the 18/19th centuries; Reflections on times living on the Wimpey Estate based around a family's recollections in the 1950s to current times.
As well as collating and archiving the ever-increasing data, we share it via our monthly meetings; website; Facebook page; taking part in exhibitions/ projects etc. Such as the Greater Nottingham Local History Fair – Virtual Fair via the Inspire website
https://www.inspireculture.org.uk/heritage/great-nottinghamshire-history-fair-2021/ where the Society's contribution received some great feedback.
Examples: "Ivor Price – reflections whilst painting the cricket pavilion on more than a century of acquaintance with the sports ground!"; Chad article recognising the 80th anniversary of the Blidworth & Rainworth WI; Photos of Blidworth Carnival; and much more.
A little bird has said we may have a Blidworth Gala this year, fingers crossed in July.
Watch this space – we will attend if it goes ahead.
Covid19 prevented us from holding our monthly meetings, and we had to cancel our year's calendar of outside speakers, but we are hoping to welcome you all back soon to those monthly meetings, until then we will continue to produce this news sheet to ensure our members are kept up to date, and to hopefully attract new members to our Society.
Be another Arthur Radford or John Wood; or follow in the footsteps of Will Richards and the Clarke family by thinking about what you did in 2019; that you couldn't do in 2020 – bring a photo/ item that reminds you a written piece/ book, to our first meeting let's have a table of exhibits detailing "What we did or didn't achieve, in 2020."
As a society we are always looking at new ways to present what is in our archive as well as researching opportunities to develop more of our history and heritage, and currently are working with:
Miner2Major –
Miner 2 Major | Miner2Major (nottinghamshire.gov.uk) a five-year, National Lottery funded Landscape Partnership Scheme (2019-2023), that focusses on the heart of Sherwood Forest area. There are 7 projects that will engage with local communities to celebrate important habitats, special species and rich heritage of Sherwood Forest. M2M will deliver connected projects related to four broad areas, Learning & Engagement; Nature; Heritage; Scheme wide initiatives.
We featured the Poetry Place free workshops offered to those wishing to write poetry about photos contained within the Inspire photo archive, with the intention to exhibit that poetry later this year. Last workshop 25/5-8/6/2021
Poetry Place: writing from archive photography of the Sherwood Forest area. Online workshops May/June | Inspire - Culture, Learning, Libraries (inspireculture.org.uk)
Currently we are working with a company whose task is to engage local schools (Primary) with the history of Sherwood Forest, focusing on the century from 1850-1950. They are creating workshops and learning experiences that share stories around 5 themes: gardens (allotments), mills, mines, transport and the 1st and 2nd World Wars. Using our archive material, we have plenty of information and documentation to share with our community's schools and children. The recent WWII air raid shelter that the Blidworth family so generously shared with us, will become part of a wider audience – our local schools are so excited to engage over something so close to home that is also an important element of the school curriculum.
Expanding our database of history:
The Blidworth and District Historical & Heritage Society has always considered Ravenshead and Rainworth to be within our District and indeed we do have regular members and contributors from all three Villages. Most of us who have grown up here are so familiar with the many older local buildings and local features, almost landmarks, and it is such a shame that so many have fell by the way so to speak. It has become almost a duty to our Society to research and record the Heritage of the area in as much detail as possible. Unfortunately, we are often unable to preserve many of the features, because generally things do change for the better, but we are determined to balance out known history of all of the core villages within our society's district, such as stories about:
· Rainworth – small hamlet to mining village and beyond;
· Ravenshead – not just an extension of Blidworth Bottoms or Fishpool but a village with its own rich history
· Blidworth – maintaining the rich heritage we have had entrusted to us but developing it to continue into our future.
Have any ideas of stories/ memorabilia / questions about our community? Visit our website; Facebook page; join us at our monthly meetings! Let's look to the future together.
As work continues at the junction of Ransom Wood Business estate, where the building of a fast chain shop is to be, opposite the other side of Southwell Road East, where McDonalds has sprung up – our memories go back to what that area used to be:
Ransom Hospital developed at the turn of the 20th century as a private and NUM funded hospital renowned for its fresh air techniques, with patients sleeping on the open verandas of the wards. It had onsite accommodation for doctors and nursing staff and Victorian-style planted parkland and gardens for patients to relax in. With approximately 20 buildings on site and the whole park being heated from a central boiler it was in every way a living, working community.
With WWI Clipstone camp used the area of neighbouring forestry around the hospital for military training, with a network of trenches dug over the acres of woodland. The stories of soldiers having to crawl up Strawberry Knoll whist under live ammunition fire from the 2 heavy machine guns mounted on its summit, and of a local post-master making deliveries on site around 1913 and recalling you couldn't see the trees for troops streaming through the site and 2 tanks parked in the car park!
The site was sold to Mansfield Sand Co in 1990 who intended to quarry the high-quality sand that lay beneath. As many of the buildings were dangerous, they had to be cleared and demolished for public safety.
Help available in our community:
Blidworth food share at Sherwood Forest community church 07907 664862
Blidworth on the move for medical transport 07915929936 & 07377267643 Plus General Enquiries 07816933429 (Lines open M-Fri 8.30am - 6.30pm)
Rainworth Social Action Hub food share 01623 490498
MAY 2021 NEWS SHEET:
GREAT NOTTINGHAMINGHAMSHIRE LOCAL HISTORY FAIR VIRTUAL!
A Month-long celebration of local history throughout May 2021, in May 2021 Inspire on behalf on Nottinghamshire County Council will be hosting its ninth
annual Local History Fair as a virtual Local History Fair to take place throughout the month of May. Using the Inspire website to host a selection of online talks, activities, quizzes etc. for virtual visitors to access, and our Society's contribution can be found on the
Inspire website
https://www.inspireculture.org.uk/heritage/great-nottinghamshire-history-fair-2021/
VE Day 8th May 1945 celebrations all over the world of marked Victory in Europe! Germany signed the surrender on 7th May 1945 bringing WWII in Europe to an end, but whilst celebrations were planned and implemented there was still fighting going on in the far east.
Each year since we have celebrated VE Day on the 8th May, even last year, with covid19 cancelling many planned events the 75th Anniversary of VE Day was observed by the Stay-at-Home events across the country.
Courtesy of Tom Murray's book Remembered in Silence – Sergeant Peter John Taylor, Royal Air Force 958721 was killed in action 15th May 1941. Peter was born in 1921, younger son of John and Dorothy of Haggnook Lodge, Fishpool (Ravenshead). He was educated at Nottingham High School and
Worksop College. Prior to enlisting He and his brother Michael, assisted their father who owned a large wholesale fruit business, situated where Mansfield library now sits. A few months after the outbreak of WWII, Peter joined the RAF. In November 1940, he was posted to 256 Squadron based at Catterick flying Defiants and was awarded his wings that month also. On a routine patrol over the NW coastline Peter and his comrade Sergeant Fremlin intercepted the enemy and made the ultimate sacrifice. The funeral was conducted by Rev W Warr at Blidworth St Marys Church on the 15th May 1941. The church was full to capacity. He was buried at Mansfield Cemetery, Nottingham Road, grave 2402.

Easter 2021,
let's dig the garden to find that WWII air raid shelter, after Caroline was informed, by a passer-by that there had been a WWII air raid shelter in their back garden when he had lived there. So, the digging began. For the full report on the dig check out our Facebook page post or our website www.blidworthhistorysociety.co.uk
Following clues in the ground they saw a path to the end of the garden; the levels of the neighbouring gardens w
as substantially lower. They found the entrance and discovered various finds.
A candle holder, with the snub of a candle still inside it.
They continued to dig, clearing the top, finding the steps; the stove that heated the space; horseshoe; a sole of a shoe; pick axe head and spade plate.
A strange looking rectangular item that appeared to be two of the old-fashioned solid block batteries (bottom far right in picture) could it have been a torch of some kind? The label read Oldham & Sons, Denton, Manchester. Courte
sy of the Company's Archive Department they confirmed: The Oldham type S lamp was recognised as the best and cheapest light for use in mines. Weight of complete lamp was 9lb 8oz and was approved for use on 17th October 1932. Copyright
Oldham and Son Ltd Archive - Archives Hub (jisc.ac.uk)
The previous occupant of the property on Belle Vue was contacted and fondly remembers "I used to play in this shelter as a boy when I lived at this house. My sister remembers going down into it during the war along with the neighbours." Others from our community contacted us giving the location of other shelters that were in our community, they have all been plotted and will be displayed with all the information gathered to date on our website
www.blidworthhistorysociety.co.uk and Facebook page – plus at our monthly meetings, when we start up again. Look forward to seeing you there.
The British government, in December 1937, passed the Air Raid Precautions (ARP) Act, that required local authorities to ready themselves in case of air attack. The Air Raid Warde
n, newly trained initially had no uniform, wearing their civilian clothing. They received a silver ARP lapel badge to wear on duty alongside their helmet and an armband (initially this could be any design). We were donated photos of ARP whistles; Gas Masks used at this time; plus, a lamp found in the Anderson shelter of Derek Wilson's family garden (long since gone – our thanks for his donation).
The shelter revealed was clearly not an Anderson shelter.
Air Raid Shelters distributed to the general public initially were either the Anderson, for those with gardens and for those without, Morrison.
Anderson Shelters – named after Sir John Anderson, consisted of two curved corrugated sheets of steel, bolted together at the top and sunk 3ft into the ground and covered with 18inches of earth.
Morrison Shelters – named after Herbert Morrison the Home Secretary, in use from 1941, they consisted of a rectangular steel and mesh cage which accommodated 2 adults and two children. Intended for indoor use and used as a dining table during the daytime.
Again, the Blidworth shelter found was concrete in a garden near to the school field, others around the school field have stories or personal knowledge of shelters in the school field, corner of Haywood Ave/Mansfield Rd – a double entrance one; someone is currently conducting an archaeological survey to find the one that they know is in their Haywood Ave home. We are being kept informed of progress and have an open invitation to visit, once located!
This is the main room of shelter, note the air holes in the ceiling. The next photo shows air holes above ground
A donation of a photo of a lamp found in Derek Wilson's Anderson shelter of the family garden gives another artefact:
News of this find was put on Facebook pages – The interest generated was amazing. Everyone thanked the family for sharing and more information on where other shelters are/were.
The family are ensuring the site is safe. The school has been contacted to gauge their interest and also to see if they have any material of shelters that are under the school field, this is again due to someone contacting us and stating "when I attended the school in the 70s I remember there was some sort of shelter on the school field my niece who is a few years younger than me also recalls it and remembers her class doing a project on the shelters used in the war and is certain they were shown pictures of the one in the school field with children in and around it" So, fingers crossed – we may have more to come!
If you wish any more information or to contribute anything on this amazing find – especially with other villages Rainworth, Ravenshead then do not hesitate to contact us at
www.blidworthhistory.co.uk or email
blidworthhistory@virginmedia.com or on our Facebook page Blidworth Historical Society. Please respect the family's right to restrict information / access and share with us our gratitude and thanks for what they have and are willing to share.

This building currently housing the Fishnet, Linnet Studio, Hospice charity shop and Premier shop is a striking and familiar building on the corner of New Ln/ Mansfield Rd and we will explore its history more.
Let us start at the Mansfield Road Junction of Main Street and Dale Lane and walk from Dale Lane Garage (site of Dunn's garage and shop 1930-1970s). Also in this area was a hut that sold Fish & Chips in the 1950s and next came El Rico's café anyone got any photos of them?
Tesco is next on the site of Forest Folk Hotel 1926-2000? and where a set of Public toilets were, said one Facebook reader "hi r
emember in the fifties we would catch a bus to Skegness from outside the Forest folk and mum used to say use the loo as there was never any on the bus in those days and the next stop Lincoln" (the ones higher up near Mount Pleasant must have come after Forest demolished?) Now, 2021 Rookwood Court and the REAL building with its distinctive tower (formerly the Fire Station).
Houses stand on the left opposite these buildings until you reach New Lane and the Post Office building (at the end of New Lane and opposite the Fishnet shop).
Back to the right-hand side of Mansfield Road, just after the REAL Nursery is a drive leading up to a garage that stands behind the Voltz Bike shop (used to be Plants & Petals and Ackerman's Showrooms before that). Next, are a couple of houses; well houses 2021 but previously, they were the butchers and the old (new) post office, before its move to corner of New Lane: Recognise names at these businesses? PO 1920 Harris; Froggatt's; Butchers: Musson; Hardy; Hardy (not related to the other Hardy?); Ackerman's Showroom/ garage; Petal & Plants.
Check out this photo, earlier than the one above and top left is the distinctive "Tudor style building – the Fishnet". Council houses on the left of Mansfield Rd, with the Drs car (Ford or Austin?) parked outside one. Mount Pleasant can be seen on the right set back from the road.
Walking on we cross the end of the drive leading up to Hatzfeld house and then the lane leading up/down Mount Pleasant and finally past the houses at bottom of Hayward Ave, having passed the Notice & bulletin boards, where once stood the public toilets, which is opposite the Post Office (previously Londis) at the end of New Lane.
Crossing over the road to the Post Office continuing along Mansfield Road past the Fishnet (that distinctive Tudor styled building again)
Dunn's rented this shop in 1938.
The shops here on the left-hand side of Mansfield Road stretch to the top just below the end of Belle Vue Lane, on the right-hand side, and has houses facing them along the stretch of road from Hayward Ave junction and Belle Vue Lane.
The shops after the Fishnet were The Busy B's; Bob Jones'.
The next shop currently is Premier, this was the original Cooperative grocery shop and next building housing Xpressions had a Travel Agency All Seasons and a carpet place.
As covid19 restrictions ease and our shops and businesses open once again, lets support them and achieve a new normal, remembering:
Next, currently Maloney's butcher, and had Allwood & Son in there before and the Happy Garden Chinese takeaway, has a foundation stone at the top under gable of 1925; Woodhead's shop was there from 1950s, but before?
The house and garage that comes next stands on land where Smith's greengrocer 1930s; Siddall's approx. 1950s used to be. Mr and Mrs Ackerman had the above house built and moved into it from their previous home now Hatzfeld House – care home.
Next to the old police house (number 53) Cabin Video used to stand between the house and chemist.
The Abbey Medical Group building 59 Mansfield Road had the previous surgery building and car park to the right of the chemist.
On that land & the land pre this building stood the Coop Butcher's shop in 1950s and in 1980s Goodman East Midlands a financial adviser plus Nationwide building society any pictures anyone?
63-65 Mansfield Road – Blidworth Carpets and Hardware & DIY Wool n Wear and a Bridal Shop, previously Millward's cobblers. 69 Mansfield Road, a private house from 1980s but previously Polly Booth's sweet shop and petrol pumps and then Nettleship's garage after 1956.
A set of homes are next built on the site of the old cinema, Combo Court – 2 face onto Mansfield Rd and another 4 face onto the area of the drive and site of Smithy's old Social Club, by going down the drive just after Nettleship's white wall; on the left is a bungalow that used to be Smithy's club and other properties as well as Combo court. The cinema closed and operated for a number of years as a snooker / bingo hall until it was demolished to make way for this new housing complex Combo Court.
The next four buildings after Combo Court are a mixture of business and private and have different functions over the many decades they have stood there. The bungalow at the far end of this stretch is relatively new and wasn't there in the early days of shopping on Mansfield road.
Opposite these buildings on the corner of Belle Vue Lane is where the Blidworth Community Centre stood before Active4Today, where many civic and personal celebrations took place.
The grey building opposite on Mansfield Road originally was two buildings before being turned into a private home and merging into one building. Before the Cutting shop the hairdresser Hair by Us.

Bargain Carpets 2021 –this was Dulson's paper shop 1950s. Followed by the very last shop on this stretch which is currently Dean's Barbers shop, established in 1960, and this used to be a fish and chip shop in the 1950s Barfoot's, a Facebook reader commentated "I remember the chip shop at top of Mansfield Road. As a school boy I earned my pocket money there operating the potato tumbler. 1000 turns of the handle, by like the old-fashioned mangle, and if the spuds weren't done enough, I had to do another 100. I also had a paper round from next door, and we had to be outside the shop before the papers were dropped off, and then number the papers ourselves in delivery order. On Saturday after doing the round we had to collect the money from the customers. Happy (!!) days". Another Facebook reader had a paper round and remarked "The paper shop just above there was called Days when I did my paper round in the early sixties, I hated Chad day."BJs Bakery 2021 Drabble's and Cherokee Fashions 1960s.
Let us not forget those businesses and services further along Mansfield Road:
Fire station. Burma Road Industrial Estate – uses land once used by the NCB
Blidworth Miners Social Welfare Centre – home to both the cricket and football clubs, plus the Welfare Band. Our own Society's monthly meetings that hopefully will reconvene July 2021 – watch this space.
MiRiCal Emblems Ltd –on the site of the old Miners Welfare seen here on the right. This photo shows the two sun-rooms left and right of the main bar entrance (centre of photo) that overlooked the extensive gardens in front. MiRiCal is on the opposite side behind this building where the car park was and the new concert room was built.
Recently we were approached by Maggy, regarding getting a copy of Will Richards book "Blidworth in old picture postcards" as it had photos of a house her Uncle, Tom Shipside used to live in, Fountaindale.
Maggy explained that Tom Shipside Jnr, cousin to her father Harold, was born in 1900 and was son to her great uncle Tom Shipsides who was a Blacksmith and lived in Oxton, Notts.
Will Richards commented in his book, "For many years the house was owned and occupied by Mr and Mrs Tom Shipside, and the surrounding well-kept grounds were well-known to local people because garden parties for deserving causes were often held there. Beyond the house the Fish Lake can be seen- one of the three lakes in the grounds fed by Rainworth Water near its source. Beyond, the lake part of The Moat can be seen, and Friar Tuck is said to have lived on the grounds enclosed by The Moat. Friar Tuck's well is just downstream of the lowest of the three lakes. In the top left-hand corner of the picture is the old coach road which ran from Black scotch lane (the Scottish drovers' road) into the courtyard at the back of the house. The coach-road on the left went to the ornamental gates near Bessie Sheppard's stone. During the 1926 strike, schoolchildren walked from Blidworth to be entertained to tea on the circular lawn".

The land upon which Fountaindale stands was originally part of the Duke of Portland's Estate and was the home of the Need family from early 1800s, until Tom Shipside and family moved in. It has since been privately owned and their privacy should be respected by ensuring any interested parties keep to the official footpaths to and from the site of Friar Tucks well at Fountaindale. Someone who stayed at Fountaindale as a small child around 1949 remarked that "It fascinated me. My grandparents were house sitting for the Shipsides and I was invited to stay. It was such a grand house! There were so many rooms, even one for arranging of flowers." She went on to say "The most impressive thing was that Mr Shipside put a whole pound note in the collection bag! I think they owned a big car company. I do know he had his own plane and had flown my grandparents to Switzerland. Wow! Such Wealth!"
Tom Shipside Snr was a businessman and in the early 1900s entered into a contract with Raleigh Cycles to sell 50 cycles a year and then he sold motorcycles. Tom Snr was Maggy's Great Uncle.
"Raleigh was founded in 1887 by Sir Frank Bowden who had, after a spell of bad health, experienced the health benefits first hand of cycling."
In 1913, aged 42, Tom Snr met William Morris of Morris Garage, and he entered into contract to sell 12 Morris cars a year. A true entrepreneur Tom went on to have several dealerships in Nottingham and Loughborough. There used to be a garage in Newark on the corner of Lombard Street and Castle Gate. The family also had lots of smaller filling stations in and around the Nottinghamshire area; there was a garage in Ravenshead, near to where Sainsbury Local, Larch Farm is now. Tom's brother Bertie W also had a garage business in Worksop that quickly expanded into Retford.
"March 1913 saw the first Morris Car – a White & Poppe (motor) Morris Oxford, was assembled at Cowley." (as shown here)
A pilot, Tom Jnr flew his own plane to many destinations and was a great supporter of the development of Nottingham's first airport, Tollerton Aerodrome, also known as Nottingham City Airport / RAF Tollerton which opened in October 1929. T Shipside Ltd is named as a "Notable Past Associated Organisation" on their website today.
Tom is seen here with his son Kenneth and daughter Margaret in the family Auster airplane, showing trainee pilot Kenneth the ropes to someday become his co-pilot.
Maggy remembers once, as a small child, that Tom landed his plane at Le Tourquet Aerodrome, without getting clearance. It caused great consternation and family drama!
We have reported before that Sir Walter Scott finished Ivanhoe whilst staying at Fountaindale and there is a snippet from Tom Shipside, in the newspaper from 26th January 1937, about him returning to Fountaindale after touring Egypt and Palestine.
Later in life Tom wrote a book about his life in Oxton and surrounding villages, "I Lived in a Village", in which he mentions Blidworth
and his time spent there. A passage refers to the wife of Tom Shipside senior (father to Tom) to whom he married at Greasley Church in 1894.
Mary Jane (Jackson) Shipside was a member of the County Council Children's Welfare Committee and a JP in 1934. Mrs Shipside founded the WI in Blidworth, organising the working-party in WWI and welcomed refugee boys in the old Sunday school. In the influenza epidemic she with Mary Bonser of Wesley House, attended the sick and dying. *Copies of those pages kindly copied and given to this Society by Maggy.
Maggy's parents (Harold and Grace) were married in 1940 when her father, Harold, had a 48-hour pass from the RAF to get married. They went on their honeymoon to Fountaindale. Here is her mother Grace on the steps of Fountaindale.
The photo here shows (front Mary and Tom Shipside) with Frances (Shipside) Hopkins daughter left and Grace (Maggy's mum behind Tom on the right) outside the Fountaindale gates.
Here are Harold and Grace Shipside – Maggy's parents shortly after their marriage in 1940. Kenneth Shipside, born 1928, used to live in Holly Lodge on Ricket's Lane, Blidworth.
In February's issue of our Society's news sheet, we featured Arthur Radford's "The Journey", which was very thought provoking for many of us and especially the lines:" Striding on to Shipsides house he looks across the fields to Harlow Wood and thinks about Betsey Shepard……" We couldn't think where Shipsides house was, a pub may be? Now the clue is found – Fountaindale, home to Tom Shipside!
Remember those garden parties mentioned by Will earlier – in Harry Clarke's diary "25 June 1937, Eunice and her mother and aunt went to Fountaindale garden party."
Events that may interest you:
Photos like this one as an example, learn how to write about what you can visualise or extrapolate from these photos.
Be another Arthur Radford or John Wood; or follow in the footsteps of Will Richards and the Clarke family by thinking about what you did in 2019, that you couldn't do in 2020 – bring a photo/ item that reminds you / written poem or piece to our first meeting let's have a table of exhibits detailing "What we did or didn't achieve, in 2020."
Help available in our community:
Blidworth food share at Sherwood forest community church 07907 664862
Blidworth on the move for medical transport 07915929936 & 07377267643 Plus General Enquiries 07816933429 (Lines open M-Fri 8.30am - 6.30pm)
Rainworth Social Action Hub food share 01623 490498
APRIL 2021 NEWS SHEET:

AGM held Wednesday 17th March 2021 – the Chair reported that despite the many inconveniences this last 12 months, the Society has managed to retain a stable and ongoing committee. We only have 5 members, despite our constitution stating there shall be a minimum of 6 members, and though they all agreed to stand again for the upcoming year we are in the position of needing to recruit at least 1 more member to the committee. Do we have any nominations for additional committee members? Any help would gratefully be received – attendance at committee meetings (normally monthly but currently Covid19 fortnightly virtual meeting by Zoom) when possible; or assistance via other means, phone, email. Anyone interested in this please contact us via our email
blidworthhistory@virginmedia.com or phone 07801438688 to speak with Jayne.
The committee agreed: that the membership fees to be held at £5 per year and £2 per monthly meeting. Those people who attended the 2020 AGM and paid their £5 membership on the night will have that money carried forward to cover their 2021-2022 season charges.
We have a full programme of speakers lined up for the 2021-22 season and it is the intention to give speakers who have been cancelled the first opportunity to re-engage when we start to book the 2022-23 season.
Covid19 Road Map Out of Lockdown is being carefully monitored, and despite the terrible experiences of the last 12 months, let us try to work together, be able to look forward, learn and be the better for it. But let's think positive and if the enthusiasm of the committee and the recent number of general enquiries is anything to go by 2021 looks promising. When we eventually know the start date there will be plenty of publicity going out in the local press along with a list of proposed speakers.
Regular readers of our Society pages will be familiar with our usual reports of recent members meetings, and how, with that being not possible at the moment we have concentrated on topical subjects, characters and stories that have a historical connection to our district. Our archive contains a wealth of material to choose from and whilst browsing through this minefield of information, the following stories brought back personal memories which in some cases necessitated further research.
The following few snippets are an assortment of reports worthy of a mention for the record.

The following two photos were taken in 1926 and show pupils from the Rainworth Python Hill School inspecting the Table Top tree and Bessie Sheppard's stone. Note the telegraph poles stretching the length of the A60 into Mansfield. Hawthorne is usually in the form of a bush or a hedge, except in this case the tree has been carefully shaped and trimmed. It would appear to be quite a mature tree even in 1926. Possibly even 20 years old, therefore incredibly, it will be well over 100 years old today. I visited the tree in February 2021 and took some measurements, much to the amusement of passing motorists. The trunk is very gnarled and
shows its age. 3 metres high, 4.4 metres diameter and the circumference of the trunk is 1.3 metres. Some years ago, Ravenshead Rotary adopted the tree and maintained its unique appearance. Exactly who this responsibility has been passed onto is unknown to us.
If anyone has any information, we would love to hear from them at blidworthhistory@virginmedia.com
The Blidworth Scala cinema that once stood on Mansfield Road opened at Christmas 1935. The cinema was rather posh inside with rusty, reddish brown seats beige curtains and 4 lantern type lights hanging from the ceiling. The owner was a Mr. Williams who also owned the Plaza at Bolsover and the Regent at Rainworth. The screen was widened in 1953 to enable the new Cinemascope films, the first one shown was "The Robe" The last manager of the cinema was Mr. Barry Wilkin who kept it going as a business until the early 1960's when the Scala closed down the projectors for good, and Bingo took over.
In 2001, Gwilym Griffith, Executive Committee Chairman, reported that the 1st Larch Farm (St. Peter's Scout Group
were making good progress towards funding the new building that now stands on Main Road Ravenshead. Several events were held and generous donations were received. By March 2002, the Scout Group had raised over £44,000. Added to this a number of Companies offered to supply time and materials to the project free of charge bringing the total to over £69,000. The Cornwater Evergreens also use the new well-equipped building "Ravens Lodge". Facilities include large hall for functions and meetings, kitchen, toilet and washing amenities including accessible disabled conveniences.
2001 was also the year when local school children from Rainworth and Blidworth put down roots for the future. Paddy Tipping, the MP for Sherwood joined them as part of a Millennium tree planting event. Working together, the school children planted over 900 trees on former Colliery sites. The event took place during "Esso National Tree Week" when a total of more than 100,000 trees were planted nationally as part of a Guinness world tree-planting record attempt.
Tuesday 15th July 2008, Queen Elizabeth threw a garden party for 3000 people at Buckingham Palace. Among the guests was Mavis Wood of Blidworth and Lynne White of Ravenshead. Mavis was invited in recognition of her 40 years of voluntary work. She is regarded as a shining example of a volunteer by colleagues at the Daffodil Service at Kingsmill Hospital. Lynne's invitation came about as a result of her brave efforts in overcoming a severe disability to swim the equivalent length of the English Channel. In so doing she managed to raise over £1000 for the Cornwater Day Centre.
There are 2 local prize winners worth a mention here. Both recipients were honoured for creating enduring pieces of work that demonstrate their immense pride in belonging to our community. Tom Murray received the 2008 Rotary Club of Ravenshead Citizen of the Year award for his contribution to the creation of the Blidworth War Memorial. At the presentation Tom was keen to point out that the project would not have been possible without the help of the Memorial Committee and its sponsors. Rotary President David Green said that Tom had put in a lot of personal time and commitment with both the design and building of the memorial, and also considerable research into the names of those that served and died for their country. In accepting the award Tom stated that it had given him "immense pleasure" to be involved in the project. The annual Remembrance Sunday Royal British Legion Service has been held at the memorial every year since.
Our other prize winner was Blidworth's Bob Williams, who in April 2001 was named Nottingham Evening Post, Poet of the year. Bob, a former miner, spent many hours on Church Hill with his father, Bill, before retiring to Lincolnshire. His poem, Blidworth Millennia, is written about the Hill and dedicated to the people and village of Blidworth. Copyright prevents us from publishing it here, but we will endeavour to bring it to you at a later date. Bob was presented with an inscribed crystal bowl and £50.
Sailly sur Ia Lys, a farming and light industrial village in France wrote to the District Council in May 2002 to explain how they were interested in twinning with a village in Nottinghamshire. Blidworth Parish Council briefly discussed the proposal but it would seem that there was little interest. Apparently Blidworth had its Brexit moment 15 years before the rest of the UK.
Hopefully, in the summer this year we may be able to continue with our monthly members meetings, in which case a programme of guest speakers will be published. In the mean-time watch out for further snippets.
Times are a changing and never more so with the shops that have served us past and present. As the village developed and expanded the shopping hub of Main Street moved down further into the village that had sprung up around the Colliery, Mansfield Road and others further in the colliery village such as Lenton's.
Mansfield Road from the Junction of Main Street and Dale Lane works its way up
from the Dale Lane Garage (site of Dunn's garage and shop 1930s) and Tesco (on the site of Forest Folk Hotel 1926-1970?) on your right and then after Rookwood Court is the REAL building with its distinctive tower (formerly the Fire Station). Houses stand on the left opposite these buildings until you reach New Lane and the Post Office building (at the end of New Lane and opposite the Fishnet shop).
Back to the right-hand side of Mansfield Road, just after the REAL Nursery is a drive leading up to a garage that stands behind the Voltz Bike shop (used to be Plants & Petals and Akerman's Showrooms before that) that has picnic benches
in the forecourt for those yummy coffee breaks from the Handlebar café. Next, we have a couple of houses; well now they are houses but previously they were the butchers and the old post office. Walking on we cross the end of the drive leading up to Hatzfeld house and then the lane leading up/down Mount Pleasant and finally past the houses at bottom of Hayward Ave, having passed the Notice & bulletin boards where once stood the public toilets, which is opposite the Post Office at the end of New Lane.
Crossing over the road to the Post Office we continue our stroll along Mansfield Road and across the bottom of New Lane, past the Fishnet (fish & chip shop now and before plus Dunn's shop in 1930?). The shops here on the left-hand side of Mansfield Road stretch to the top just below the end of Belle Vue Lane, on the right-hand side, and has houses facing them along the stretch of road from Hayward Ave junction and Belle Vue Lane. The shops currently after the Fishnet are, Linnet Studio 40 Mansfield Road (was Tyler's shoe shop in 1950s a green grocer 1960s) and The Nottingham Hospice shop 41 Mansfield Road, (was Bob Jones' shop) and later Busy Bs (name still on the banner above the new Hospice shop property).
The next shop currently is Premier, this was the original Cooperative grocery shop; the gap between this building and the building to the left (now building extended to close off this gap) was where the lorries / deliveries were made to the back of the cooperative.
The land to the right of the cooperative (now a building housing Xpressions etc)
was empty until the cooperative, seeing a business opportunity opened a cooperative drapery shop. If you look closely at the whole of the white building that houses Xpressions, Royal Pizza and Turnaround, you will see the old windows top right-hand corner of the building; the facing stones at the top and down sides are those large white, almost granite type slabs. The bottom portion of the building is chopped up but you can see the different levels of the entrances sloping up left to right. The cooperative drapery had two sets of glass doors, similar to those entering into the cinema or theatre or the cooperative building on Queens Street, Mansfield (now Beales?). Around 1950s people shopping at the Co-op grocery store (to the left of this building) had to travel to Mansfield for items such as a new dust pan, clothing, table clothes etc. Affording the bus fare or the time to troop to Mansfield they asked if they could order from Co-op grocery – and did. In 1960s seeing a business opportunity Co-op developed the land and built a haberdashery / drapery store.
Very grand steps leading up and into an open plan shop area that had glass cabinets, with wooden drawers holding merchandise such as – ladies' corsets and under garments (pink cotton bloomers). They had the pneumatic cash carrying system (similar to this image). Around 1974/5 the haberdashery store closed and the building was made into a Funeral Parlour – Co-op funerals; had a Chapel of Rest. Later closed and the building chopped up into smaller areas and has had a taxi firm, a clothing alteration service, hairdresser etc in it over the intervening years.
Next, we come to two separate properties, the first currently Maloney's Butchers is certainly an old building and had a butcher in there before – unsure of name. Next is Lees Garden, Chinese takeaway, has a foundation stone at the top under gable of 1925; Woodhead's shop was there from 1950s, but before?
The house and garage that comes next stands on land where Smith's greengrocer 1930s; Siddall's approx. 1950s used to be. Mr and Mrs Ackerman had the above house built and moved into it from their previous home now Hatzfeld House – care home.
The old police house (number 53) is currently up for sale again after some extensive alterations, and this is followed by the Pharmacy which is the single story building just before the GP Surgery. First, the house that was the old police house, before it was moved down to the corner of Haywood Oaks and Dale Lane (subsequently been closed and altered into a residential home) it has a grey horizontal fencing around the perimeter and has incorporated another building that used to stand between the house and chemist. If you look closely to the garage at the right-hand end of the house it is flat roofed and this used to be The Cabin, a video hire shop in the 70/80s and before that a sweet shop in 1950s. Next is an alley blocked by a gate then the chemist building.
59 Mansfield Road Abbey Medical Group building is an upgrade to the first building on this site. (As the population of the village increased, the Blidworth surgery that once existed on Dale Lane, attached to Dr Spencer's home, was modernised and rebuilt on vacant land on Mansfield Road.) This current building was built on land that already held a surgery plus some vacant land to its right, that they acquired between it and Blidworth carpets. Here once stood the Coop Butcher's shop in 1950s and in 1980s Goodman East Midlands a financial adviser plus Nationwide building society.
63-65 Mansfield Road – Blidworth Carpets and Hardware & DIY (single storey building to the right of Blidworth Carpets); Miss Pemberton's sweet shop (had a sister further up Mansfield Road in a shop too) and Millwards' shoe repairs. Then just to the right of DIY shop is a drive which leads now to a care home that was previously the home of Joyce and David Nettleship who were relations to Nettleship's garage and house that is just to the right of this drive (surrounded by a white wall) 69 Mansfield Road, a private house from 1980s but previously Polly Booth's sweet shop and petrol pumps and then Nettleship's garage after 1956.
A set of homes are next built on the site of the old cinema, Combo Court – 2 face onto Mansfield Rd and another 4 face onto the area of the drive and site of Smithy's old Social Club, by going down the drive just after Nettleship's white wall; on the left is a bungalow that used to be Smithy's club and other properties as well as Combo court. The cinema closed in ? and operated for a number of years as a snooker / bingo hall until it closed in ? and demolished to make way for this new housing complex Combo Court.
The next four buildings after Combo Court are a mixture of business and private and have different functions over the many decades they have stood there. The bungalow at the far end of this stretch is relatively new and wasn't there in the early days of shopping on Mansfield road.
Opposite these buildings on the corner of Belle Vue Lane is the Active4Today Leisure Centre, originally built as the Blidworth Community Centre where many civic and personal celebrations took place.
The grey building opposite on Mansfield Road originally was two buildings before being turned into a private home and merging into one building. The right-hand side bottom of this building currently houses the Cutting Shop and in the 1950s was Thralls the barbers.
The left-hand side of this home was joined to Thralls and housed a Butchers in the 1950s.

BJs Bakery 2021 used to be 2 separate properties; right hand side of BJs was 1950 Coates Menswear then Cherokee Fashions 1960s. Whereas on the left-hand side was Miss Pemberton (sister to lady in Blidworth Carpets – see earlier) needles & threads in the 1950.
Bargain Carpets 2021 –this was Dulson's paper shop 1950s. Followed by the very last shop on this stretch which is currently Dean's Barbers shop, established in 1960, and this used to be a fish and chip shop in the 1950s Barfoot's.
This covers the current layer of businesses along Mansfield Road, with a few historic references thrown in. We have names and photos of some of the older businesses that used to be present on the road, thanks to our members and the public generously donating these to us. Our plan to take the current landscape back in time and display what used to be there. It is slow work collating and documenting this material but it will be ready for publication soon.
Ramsden Croft is one area where you will find some of the first habitats of Rainworth. This photo shows the 2021 state of the cottages (3) that are down the cul-de-sac road that is at the traffic light junction of Southwell Road East and Kirklington Road. The entrance to Ramsden Croft is down the road that runs from Southwell Road East down away from Tesco (Robin Hood Pub previously), between the cooperative building and the funeral directors AW Lymn. (As this article is being written a building that stood between Ramsden Croft entrance and the funeral directors is being demolished and new housing being built.)
Thanks to a resident of the Croft, Alan Mosley we have an amazing amount of material about the Croft and other areas of Rainworth, for which we are very grateful for and we will be using to develop the history of Rainworth in our archives. This is just a brief introduction to one part, there will be more. Alan has from the deeds to his property been able to put a timeline of the development of the land that is referred to as Ramsden Croft and other adjacent plots back to 1874, and in this timeline, there are some interesting names and mysteries that crop up:
17/9/1874 - John Ramsden Williams bought from William Downing Adlington
18/10/1884 - Will of John Ramsden Williams gave to Sarah Williams. Executors: Fred Ramsden Williams and Albert Charles Spinks.
3/10/1887 John Ramsden Williams died.
19/6/1889 Fred Ramsden Williams died.
5/12/1903 Sarah Williams died. Under the will of John Ramsden Williams – left to
Albert Charles Spinks – Gamekeeper.
3/11/1904 Albert Charles Spinks put the property up for sale by public auction at the Swan Hotel, Mansfield. Alice Ramsden Spinks, wife, bid the sum of £420.00 and as highest bidder, declared purchaser, such money should be paid out of her separate property.
Comprised. "All those pieces of land and property adjoining each other – together an area of 2 acres 3 rods and 3 poles.
Bounded on the north by main road between Mansfield and Southwell - Southwell Rd East
Bounded on the south east by the road leading from Rainworth to Blidworth. (Warsop Lane)
Bounded on the south west by the property of Frances Hall. (Rainworth Farm now down Pine Close)
Bounded on the north east by Rainworth Water.
And numbered 47 and 48 on Ordnance Survey Map (1900 Edition) in the Parish of Blidworth.
Also, all those 8 cottages occupied by Messrs, Spinks, Lucas, Gascoine and Armstrong (4 unoccupied)
(2 cottages must have been those at the entrance to Ramsden Croft which are being demolished today, 24/02/2021. AM)
3/4/1928 - Will of Alice Ramsden Spinks left all her real and personal estate to her 2 daughters, Kate Spinks and Martha Annie Spinks.
2/2/1929 - Alice Ramsden Spinks died.
5/12/1946 - Frances Mary Green bought 6 cottages (1-6) from Kate and Martha Spinks.
23/8/1974 - Alan and Connie Mosley bought numbers 5 and 6 from Frances Mary Pemblington (nee Green).
Alan Mosley 24/2/2021.
John Ramsden (Williams) ran the Sherwood Inn from where this building stood and then it was converted in 6 cottages (2 up and 2 down; with the WC outside in the garden and the bath hanging from the door; plus, a well at the bottom of the garden) that later in 1946 were bought by Frances Green. The footprint of the Inn is still seen today and over time these 6 have been converted from 6 to 3 with neighbours purchasing the attached property to modernise and create larger houses; whilst retaining many of the architectural features such as beams and differing levels of floor.
In the deeds it mentions the boundaries and the 8 cottages; 2 of which are believed to be that building that is being demolished now (which would be the 2 cottages shown on the right in this photo).
But then we wonder about Ivy Cottage – which is the old co-op chemist (now part of
the co-op building, shown on the left of this photo) and has a foundation date on it of 1905; something for
us to investigate.
Alan's granddaughter Jay did a project for school about Ramsden Croft and it has been kindly donated to
our library for people's interest.
With grateful assistance from Alan Mosley. 12/3/2021
Thank you for all your support and enthusiastic encouragement of the research and publication of this news sheet, without your interest and support it would not exist. If you have any ideas for further research, inclusion or contribution, then do not hesitate to contact us at
blidworthhistory@virginmedia.com
For more information on Rainworth, check out
www.Rainworthvillage.webnode.com

MARCH NEWS SHEET 2021
Whilst researching a question raised about somewhere called Nursery House, we discovered several pieces of information relating to the history of Rainworth. This particular enquiry led us to obtaining information about the building currently forming part of Churchfields Care Home being the original parsonage/vicarage and the land to the side of the road leading to the Home and the caravan/static homes behind the building. We met several individuals along the way who held an interest in our villages and shared our aim in building up the history of Rainworth and Ravenshead.
Julie Dawes, was a lady we met who supported us in our aim and imparted her personal family history to do with Nursery Cottage and loaned us an Auction Catalogue of the Rufford Estate lots in 1938, and planned on working with us. Sadly, this was not to be as Julie passed away
very suddenly in February. Having spoken with Julie's family since, we have been assured that she would want us to continue with our aim and that they know we will handle her shared memories, documents as the treasured items they are.
Rufford Estate – Lord Saville's estate covered large areas surrounding and in Rainworth and there are many links to the development of schooling, religious meetings and of course industry both farming and coal mining.
In 1938 a sale of a large portion of the Rufford estate took place and properties and land in Rainworth
changed hands; for example, the multi named building: the toll house/Round House/Ink pot. This used to stand in Rainworth where the Car Wash is currently opposite the Post Office on Southwell Road East; before being a car wash it was Rainworth Filling Station.
The Rufford estate land and properties will be used over time as we build the history archive for Rainworth. We have several photos and documents to talk and discussing about several major development points in the village's history.
Nursery Cottage still exists but not in its original form. It was the gamekeeper's cottage when part of the Rufford Estate and the tenant at the sale of the property on 22nd November 1938 was a Mr Charles Wain, this was Julie's grandfather, and his handwriting is on the page around Lot 469 indicating his interest in this particular property. His annotation indicates "part" Lot 469 – and some other notes that we are trying to transcribe.
The name Nursery Cottage does not appear in the catalogue just a reference to a small holding at Rainworth that has a cottage built of brick and slate and contains: living room, kitchen, pantry, two bedrooms and box room, outside F.C., coal shed and store shed. Water was drawn from a well. The cottage was surrounded by Heath Land – later this was developed into a caravan park. Julie remembers that the original gamekeeper's cottage had stables, that her grandfather had no use for so demolished. When she was quite young and living there. Her grandfather and then later her father had various parcels of land in and around the Lot, but no other structure for living on that land.
They ran the caravan park for many years. Julie remembers that her grandmother's glass ornaments, that were out in the cottage, got damaged with the vibrations when the train struggled up the incline of the track. After the death of her parents Julie sold the land and the original cottage but moved to another property close by. Nursery cottage is still sign posted but is marked private and Julie said that the exterior is all new.
During our short conversation with Julie, we exchanged many shared memories of times in and around Rainworth such as:
· Cutting across the field behind the vicarage (now Churchfield Care Home) to get to garden parties/ fairs/ guides and brownies meetings.
· Python Hill school that she attended as a pupil and then later as a teaching assistant.
· Attendance at Joseph Whitaker Comprehensive School.
We looked forward to exploring together. She mentioned further documents that she was willing to loan us for our research and we discussed what she would like to see happen to these documents later – her family or a museum etc. Engaging with us that day she said energised her and she looked forward to more interactions – as did we.
The following day Julie phoned us to say she had found the documents she referred to – maps associated with the auction catalogue and another detailing the entirety of the Dukeries estate plus a document referring to the proposed alteration to the cottage "Saddlers Wood" Rainworth for Mr Wain, 1947. The last document is a mystery to Julie as she had never heard the name Saddlers Wood before – something we all thought we could investigate together. Julie said she put the documents ready for collection and we discussed ways we could use / scan etc for our archives.
The family of Julie have very kindly passed on those documents and assured us they fully support the development of this history. Join us as we follow this story in memory of Julie and her family's association with Rainworth.
Tom Hubbard "Apart from being called the Wimpey Estate after the builders I have also heard it called the "concrete city" after the method of construction of the houses. Somehow I can't see some of the houses being built today lasting as long as these or those on Kirklington Road or the colliery village in Blidworth."
Ariel photo of Wimpey Estate, Preston Road opposite Joseph Whitaker's 1970s.
As the families settled into their new homes, they began to learn about the new mod cons that were in the rented house. After the last article about Wimpey estate, we received several people sharing their memories of Wimpey Estate, such as Diane Harrison who said "I remember my dad telling me he did some of the joinery on the Wimpey estate, including the wood in the roofing."
The houses were rented from the NCB and the offices for the rents was in Blidworth. Sandra Anderson commented "I was born in 1954 on the Rainworth side of Wimpeys on Preston Road. My mum and dad Jack and Dot Hopson lived there all their lives. Dad died 1986 and Mum died in 2019 aged 97 and my Daughter has bought the house and living there with her family.
Alison Sherratt explained "I have lived all my life on the Wimpey estate. I was born in the summer of 1954 after my parents, Dorothy and Dennis Barnes, moved into 22 Rugby Road at Easter of the same year (see the rent book). I then moved onto Preston Road on my marriage in 1974 where we still are. I do believe that Preston Road was the parish boundary for years hence why I lived on the Rufford side (dad worked at Rufford) and moved across as my husband worked at Blidworth." And she sent us a photo of an actual rent book.
Gardens began to be developed, with grass / turf being set, some trees had been planted in "green areas" around the estate and Eaton Close had its own trees – many a time we played around the base of the tree. Marbles was the best game, where we used the dips and the hollows for great marble rallies. For those with their dinky or corgi vehicles it made a great road system. The tree never made it to full maturity but the areas of green, whilst no longer green due to the many cars travelling over them or parking on them, still remain today.
Cars were few and far between in the early days – in the middle 50s it was of course the trusty black car just like this photo. Ford or an Austin? Its parked outside number 6 Eaton Close and the baby on the grass (seeded by my dad and uncle) is at number 11 Eaton. Of course, as cars began to appear then drives and garages starting appearing at the homes.
The garages were all constructed of asbestos sheets forming the walls and a corrugated (asbestos) apex roof; with double doors to the front and often with windows at the top of the header above the door or in the doors themselves, example here
(courtesy of a neighbour with their permission) and yes, it is still standing! Later the style evolved and of course the need then to consider the safe removal of the asbestos sheets in line with H&S did make people think twice before knocking them down to be replaced.
Our garage meant that the coal bunker was moved from opposite the back door, to the back garden opposite the kitchen window. That garage became one of the best places for play; it was a shop; a house; a school; a theatre and all the kids from the street joined my sister and I playing. I remember one occasion when we held a "garage sale" from it – and I sold all of Robert Hardwick's cars (corgi and dinky) and made lots of cash for sweets!
Inside the house entertainment was sorted with the Dad renting a TV (a model like this one called an Ecco)

and of course the inevitable licence that went with it (but note the address 56 Eaton Close
there is no numbering beyond 16 Eaton Close so think 56 was a plot number?
By the following year the licence is for 11 Eaton Close,
1954 facts about TV broadcasting:
UK exports just over 100,000 television sets. UK TV license increases from £2 to £3. 4.2 million licenses by the end of the year. CRT sizes predominantly 14" and 17". Worlds first regular colour TV service begins in America. First compatible colour transmission from Alexandra Palace.
It wasn't all play though, there was work to be done - Wash day. A TV show "Back in time to the corner shop" revealed wash day was on a Monday, due to Sunday being the only day off for the factories in industrial areas, so housewife had to get washing doing in "cleaner" air as it built up smog from Monday to Saturday. My sister says that mum did her wash on Monday too. In the same show they modelled face masks to cut down breathing in the pollution – the masks looked like a pair of Y-front pants! Not to dissimilar to what we are having to wear today.
The Gas copper would be settled in the kitchen and hooked up to the gas tap under the draining board, filled with water and set to boil with the lightest cotton soiled clothes first.
The washer was a Servis machine, large with top loading and a mangle attached. Water went in from copper into the top and the agitator would wash the clothes. Once finished the water pipe was hung over the sink and the dirty water pumped out.
Using wooden laundry tongues to remove the washing into the sink or tub for rinsing. The washing was then taken to the back garden where a line stretched from the house to the bottom of the garden, with a smaller line going from the concrete line post to the right-hand side fence between us and number 13.
More to follow.
An article from the Mansfield and North Notts Advertiser, Friday March 12 1943. Contained some interesting reminiscences of Mr George Tansley, a resident of Blidworth in his early years.
In this article he writes of Plough Bullocking, held on the first Monday in January and the Rocking service held on the first Sunday in February (cancelled due to covid19 this year).
He also comments on the familiar figure of the lady who made and sold her own sweets on the rock sweet stall! When business was slack, she would call out "Come we shan't be able to buy the frock a child, I mean the child a frock." Hence, she was known as "Frock-a-child"!
Queen Victoria's Golden Jubilee celebrations with medals for school children and live pigs to be won by climbing the greasy pole!
Then he tells of old Polly, Mary Radford who travelled by donkey and cart, travelling between Blidworth and Mansfield delivering groceries and other goods ordered by the villagers. Other carriers mentioned are Thomas Pogson and Henry Knowles.
Future joyful events are anticipated such as the annual treat on the vicarage lawn. Then trips to Park Hall, Sherwood Lodge, Hardwick Park to name a few for the children to enjoy. Finally, a mention of the two local schools.
Let us hope soon we can plan a few trips to enjoy!

Notes by Will Richards:

It seems what is now the bridle-path from Longdale Lane towards Blidworth was one of the main routes through the Forest many years ago. It is recorded that the high point of the path near Blidworth Dale was where the forest "Courts" were held, and in 1588 the court of Swinemote was still being held near Blidworth.
The point is called Queen's Bower because it was one of the many places where Queen Elizabeth I, was claimed to have stayed on one of her journeys. On the occasion of one of the Courts there the "Nottingham Town Council" gave a gallon of wine to Sir John Byron, and a like quantity of claret to him and fellow Forest Officers, Sir John Chaworth and Sir Nicholas Strelley. Each gallon cost no less than 16d.
However, these courts or Regardes have been held at other nearby places in earlier and later times. A booklet was compiled by Rev. R.H. Whitworth when he was vicar of Blidworth, in which he described how "Forest Law" was administered by royalty or high officials of state." In 1250 a man named Raufe Clerk was Chief Forester of land owned by the King and he dwelt at the lodge (Fountaindale) on the south side of Lyndhurst beside Reynewurthe syke (Rainworth Water). This lodge was where the site Friar Tuck had his cell.
It seems the walk to visit both Fountaindale and Friar Tuck's well is still as popular today and the walk and site can be found on any OS map ref SK 45/55 568569.
February 2021
2020 a year of ups and downs – a battle World Wide and on the home front too. In 1918, after WWI ended; Spanish Influenza ravished our world – here is an extract from the book Blidworth and the First World War (copies can still be purchased via our Facebook page or request to our email):
Our community has come together in adversity before and in 2020 there was no exception!
Attics have been raided and cleared and the society has been the happy recipient of many generous donations.
Here is to 2021 being a better year; the vaccine is here and rumblings are heard and hopefully soon life can start to begin anew – post covid19. Until we can meet up let us entertain you with our news sheet and share the many discoveries about our villages and communities both in the distant past and the more recent past.
On the 1st January 1954 Des and Mary Williams with their daughter Terry, took the keys to their new home. On the same day, Bob and Barbara Hardwick and their daughter Linda also had the keys to their new home. The houses built to house miners and their families, were built by the Wimpey Building Company in Rainworth. The "Wimpey Estate", as it became known, was a development of housing stretching from Warsop Lane and Preston Road junction and stretching up towards the top end of Preston Road as it approached the Southwell Road West Road/ Cambridge Road junction.
George Wimpey was a British construction firm formed in 1880 and based in Hammersmith. Amongst many constructions in London, they built the 140-acre White City Stadium complex. Originally operated as a road surfacing contractor and after it was acquired by Godfrey Mitchell in 1919 it was developed into a construction and housebuilding firm. In July 2007 Wimpey merged with Taylor Woodrow to create Taylor Wimpey – the builders of the new Coupe Estate, built off Warsop Lane, just above the Archer pub.
Wimpey by the early 1950s were building 18,000 local authority houses a year. They were pre-eminent in the use of no-fines concrete construction (concrete made without sand) in high- and low-rise housing. The end of building controls in 1954 allowed Wimpey to re-enter the private housing market. The Wimpey estate in Rainworth was built in 1953 and amongst the first tenants to move in were the Williams and Hardwick families.
Preston Road is the road just off Warsop Lane, shown on the map (to the right of, where the "o" of Warsop is (middle bottom edge of map).
To the right, an old photo looking down the road and up to the top of hill, intersection with Cambridge Road / Southwell Road West.
These houses are built of concrete. A concrete shell with an inner wall and then the cavity between the two was filled with rubble. (Every salesman that approached us to say we could have cavity wall insulation over the years! "Nope, said we, we don't have a cavity".) The houses were either three or four bedroomed but built on the same plans; front of house had the door and three windows (2 upstairs; 1 down) and the front door had a concrete storm canopy over it with a doorstep. The side elevation had a back door with a small window to the left and a doorstep that lined up with the gable at the top of the roof line; opposite the back door was a concrete coal bunker about 4ft high and 4.5ft wide, that had a small hole at the front from where coal could be shuffled into a coal scuttle.
The back garden was dependant on the position of the house on the respective street, some were square or long (if you were on a corner you had dual aspect and a larger patch) but all had concrete posts separating them from next door with 2 parallel wires stretch horizontally between the posts (front and back). There were 5 windows on the back 3 upstairs and two down.
Inside the house was the "back place" (utility area immediately on entering the back door; the kitchen, complete - with a pantry for stores and a Rayburn cooker/ boiler (similar to this) that heated the water and cooked the food (no central heating in those days) plus it also heated the kitchen and back place. There were all the "mod cons" a gas poker for ease of lighting the Rayburn and a gas ring that was stored under the sink but brought out to heat the copper (provided) for those wash days. Then a door led into the sitting/living room; where there was an open fireplace for heat, that had a gas tap to the right of it – to operate the gas poker when lighting the fire. Marley tiles covered the floor, and had been laid directly onto the concrete floor. In the corner alcove to the right of the fireplace was the door to the bottom of the stairs and the front door. Upstairs comprised of two bedrooms to the front of the house and a bedroom, separate toilet and a bathroom to the back of the house (3-bedroom property). An airing cupboard was on the landing between the small bedroom on the front and the bathroom on the back – which housed the hot water tank. The flue from the Rayburn and open fire went into the chimney stack that went up the left-hand side of the stairs and this helped heat the front and back bedrooms, but didn't really reach the bathroom and small bedroom front – they were on the corners of the house exposed to all weather, "brrrr" in winter and "phew" in summer!
My family moved into 11 Eaton Close, Rainworth on 1st January 1954, the first and only tenants (initially) of the pit house assigned to them. Family at that time was Des and Mary, mum and dad along with sister Terry (I didn't join them until 1956), who had previously lived at 6 The Quadrangle, Blidworth with my maternal grandparents Tom and Elsie Saville. It was my parents first (and only) marital home. Their best friends Bob and Barbara Hardwick, with their daughter Linda had also moved into 14 Eaton Close on the same day New Year's Day 1954. Although, later the Hardwick family (now with their son Robert born in 1956) moved in the 1960s when Cotgrave pit was opened, the families remained friends to this day.
I still live at Eaton Close – many family and national celebrations were held here; from the birth of children to 2020 VE Day celebrations – the house has seen it all! It's changed with the times as have most of the houses on the original Wimpey Estate – but it's still standing after 68years since construction!
We will be following the development of the Wimpey estate through the eyes of Jayne, born and still living in the house you can see to the right. Introduction of cars, central heating, buying homes under the 1980s mass selling of LA / NCB properties to sitting tenants; including many celebrations held on the street e.g., 1977 Silver Jubilee.
This is the start of developing the history of Rainworth from the earliest known settlement around Ramsden Croft; the opening of Rufford Colliery and the housing developments for local workers. We also want to do the same for Ravenshead.
Slow work, but with the kind donations and help from our community it is a great project to take us forward in 2021 and beyond.
We hold a large amount of material about Blidworth, due in no small respect to our founder Will Richards, and this is being added to, almost daily with the donations and finds from the 2020 lockdown
In the 1980s an environmental improvements project was carried out in Nottinghamshire by the County Council (and even now we are seeing more changes to our villages) taken from a brochure here is one development of Blidworth:
How do you remember Mansfield Road?
Let us put together the shops and business chronologically along Mansfield road.
Here are some hints: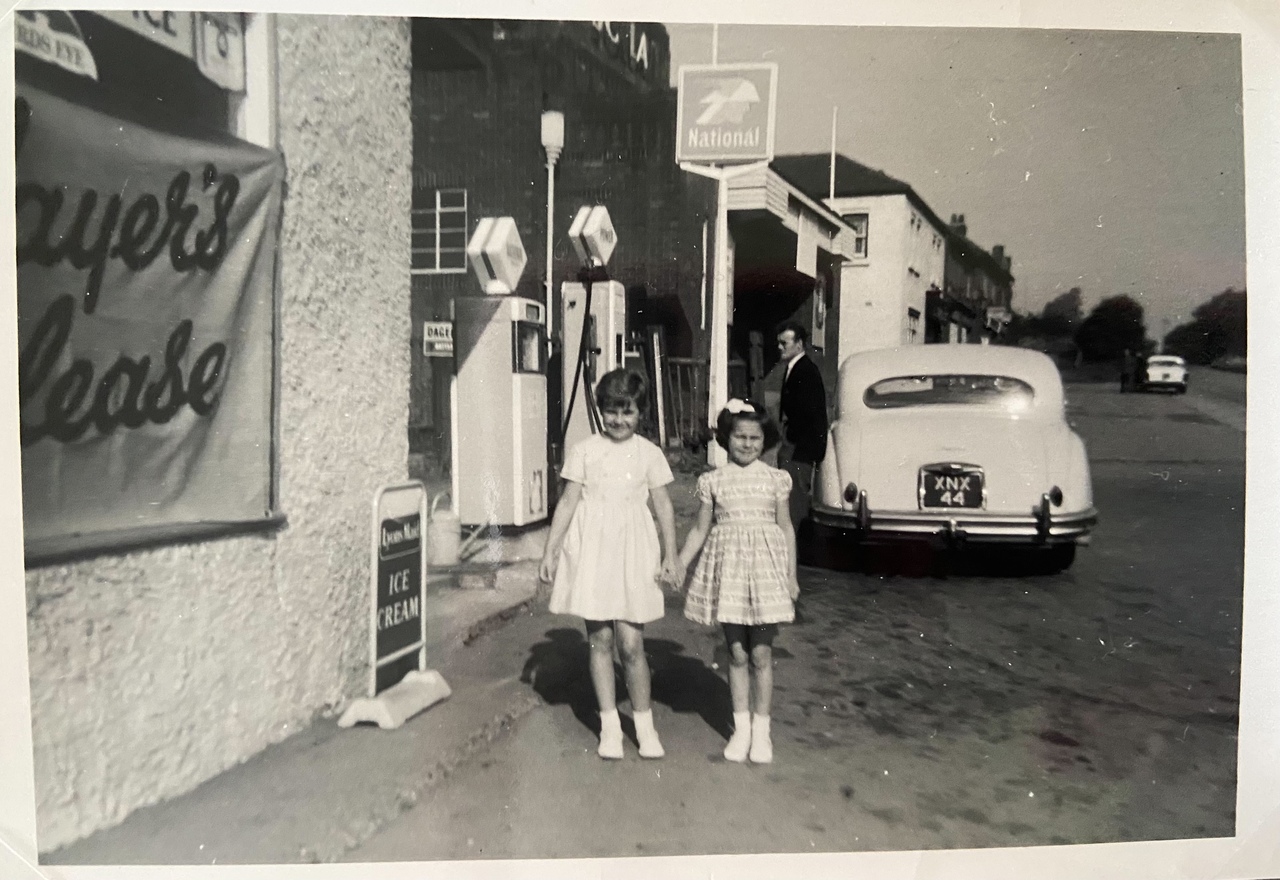 Nettleship's garage (courtesy of Karen Ball) showing Karen and her elder sister around 1963-64.
Check out the cinema just above it and the shops at top of Mansfield Road.
Karen has more to share with us as her family did shoe repairs and had premises on Mansfield Road too, family name Millward.
Dunn's who had businesses corner of dale lane and Mansfield /Main Road (opposite Forest Folk) and higher up on Mansfield Road / New Lane.
We are looking at building a timeline of Mansfield Road shops and businesses – watch this space!
Changes are subtle sometimes; Fishnet where Dunn's was.

The Scala Cinema used to stand above Nettleship's garage (on the same side of road) between the garage (still there) and the shop that's now Cutting Shop & BJs Bakery, houses stand there now.

Businesses on Mansfield road advertised in the programme; Garage 1956 H. Booth.

Remember Karen Bull – relations were shoe repairers; Millwards advert below:
Let us know who/what you remember and when that would have been.
Papplewick pumping station, situated in open agricultural land near Ravenshead. Built by Nottingham Water Corporation, between 1881 and 1884 to pump water from the Bunter sandstone to provide drinking water to the City of Nottingham.
Two beam engines, supplied with steam by six Lancashire boilers, were housed in gothic revival buildings. Apart from changes to the boiler grates, the equipment remained in its original form until the station was decommissioned in 1969, when it was replaced by four submersible electric pumps.
Address: Papplewick Pumping Station

Rigg Lane
Ravenshead
Nottingham
NG15 9AJ
A Trust was formed in 1974 to conserve the site as a static museum, but the plans soon developed to include the refurbishment and regular steaming of the engines.
One of the beam engines was operated in 1975, using the only boiler that was certified to be safe at the time. Since then, the second engine has been reconditioned, and both are steamed several times a year. New visitor facilities were built in 1991, and a major restoration of the structures was completed in 2005, following a grant of £1.6 million by the Heritage Lottery Fund. As well as the beam engines, the site houses several other engines, which are also demonstrated on steam days.
The pumping station will be in steam on the 4th/5th April 2021 (Covid19 permitting). To attend an event, you must buy a ticket in advance. They will NOT be selling tickets at the gate. Tickets will become available usually two weeks before the event is scheduled to take place. Check out their website:
Papplewick pumping station: Industrial museum and unique wedding venue in Nottinghamshire - Visit us
The Journey by Arthur Radford
A man will catch the bus at the Forest Folk Pub, Butlers bus to Kirkby "Larch Farm driver, please", and hands over the tanner fare. "What about a ticket". "I'm not a bobby, I'm just a driver. Besides I need some fags." "No wonder they've only got old buses," the man thought on reaching the Little John Pub at Fishpool. The driver gets out to fetch his fags.
When returning to the bus he opens the fags, then looks at his passengers. "Anyone want a Woodbine?" "Yes" said two blokes. The man thought, "What a kind driver" and the bus is comfortable anyhow. On arriving at larch Farm, the man steps off the bus to begin his walk. "Thank you, driver," "Anytime," came the reply and off to Kirkby the bus continued.
When reaching Little Rickets Lane, "I'll make my way back to Blidworth".
Just a short way he had travelled when a yellowhammer on the telephone wires whistled, "look at my eggs, look at my eggs and see the writing". The man finds the nest in a gorse bush. "I can't read foreign writing, besides it looks like scribble to me". So off he steps to more adventure, looking across the valley to Normans Hill and Thieves Wood Plantation. In the fields there are lots of rabbits playing, looking towards the man. They see he has no dog to chase them. "Let's carry on with our games." "I know," said one, "let's leapfrog". "Not likely said another, I don't want any more kids."
The man smiles as if he understood their meaning. On reaching the crossroads he crosses over to greet the tree, Table Top. "Hello, my friend and touches its boughs. "I hope you will last for ever. Everyone who passes by will notice your splendour, but it will take some tall chairs to dine off you". Tree sparrows had nested amongst the branches, with domed roof and comfy inside, but they wished someone would spread a table cloth upon the top to keep the rain out.
Striding on to Shipsides House he looks across the fields to Harlow Wood and thinks about Betsey Shepard. I wish I was there to save her but the memories she left behind will live in memories for time to come.
Now off he strides to reach the footpad, blood and guts from Little John to Fountain Dale. On reaching this spot he rests awhile. Down the path to the dale by Ling Farm the long field is full of night arks, the homes to many fowls. "I'd like a few eggsto take home with me but I've pinched nowt yet" Then walks away from temptation.

A passing crow calls out loud and lifts the man from his thoughts. On reaching Cross Lane he stops to listen to the Chaffinch,
but won't take that route for the lane may be mad with him and off he strides again. When reaching Redgate Farm the guard dog is off his chain and has not been fed yet. "I'll have a bite of that man's legto tide me over," he thinks, but the man has fashioned a stick from the hedgerow. "Get back you brute, or you'll feel this stick across you back." The dog slinks back to his kennel, "Oh well", he thinks, "I'll share some swill with the pigs, it's better than nowt at all."
Along the lane and up the hill he looks at the water tower. "I wonder if it's full. I'm ready for a drink." Then he carries on to the New Inn to have a couple of pints and a game of darts but, on leaving, he's lost a bob to the crafty landlord. Crossing the road to the church he glances at the grave stones, some with the mottled wear of time, some new flowers lay by one. Someone remembers that special person whose name is inscribed upon the stone with a little sadness. He makes his way home down the village by the pubs and chapels. "I think I'll have a pint in the Forest Folk to cheer me up," but it's closed, it's gone three o'clock.
So, he makes his way home to Savile Street where a friendly home awaits. A large dinner cooked by his missus, but dried up now "Where have you been all day?" she asks. "You need your sleep. You're on nights, don't forget!" "Give me ten minutes and a cup of tea. Then pack me snap ready for ten o'clock. Today I've learnt a lesson and the lane's been a good teacher." The wife says, "Perhaps we can walk that lane together and see nature's kindness. Then one day you could write some lines of your journey for future folk to read."
Here to Help during the COVID-19 Crisis Blidworth And Rainworth Fight Against Covid-19 Facebook page set up by the Blidworth and Rainworth Parish Councils; the Sherwood Forest Community Church C of E and Methodist Churches in Blidworth, as well as the Blidworth Welfare, the Head-teachers of Local Schools and the Social Action Hub (Food share and Co-op). Our purpose is to supply useful and accurate information to the community and to help the vulnerable at this time. We recognise the outstanding response that members of the community have had by making pages etc, this is just a way of consolidating all the various groups.
Contact them on the following numbers:
Rainworth Social Action Hub food share 01623 490498
Blidworth on the move for medical transport 07915929936 & 07377267643 Plus General Enquiries 07816933429 (Lines open M-Fri 8.30am - 6.30pm)
Blidworth food share at Sherwood forest community church 07907 664862

JANUARY 2021 NEWS SHEET
HAPPY NEW YEAR TO YOU ALL
In 45 B.C., New Year's Day is celebrated on January 1 for the first time in history as the Julian calendar takes effect. Soon after becoming Roman dictator, Julius Caesar decided that the traditional Roman calendar was in dire need of reform. From 1st January 1622, the Catholic Church adopted this day as the beginning of the new year. On the 2nd January 1727, James Wolfe, British general who played a major part in the fight for Canada, was born and on the 3rd January 1924; Howard Carter discovered the tomb of Tutankhamun in the Valley of the Kings in Egypt.
Extract from Sam Clarke's diary written in the early 19th century:
"Brimstone & treacle was duly administered to us every morning in the spring, castor oil was a potent remedy for a cough. I remember once had to take soot mixed with water for pleurisy because, forsooth John Wesley had prescribed it.
The annual pig killing took place a week before Christmas, ours would be about 24 or 25 stones, a great iron pot or cauldron would be fixed up over the fire for the scalding water (we had no copper then) the butchering process being over & the pig hung up, guesses were made by the sages as to its weight, if the head weighed 25 lbs the total weight of the pig would be 25 stones, 1 lb to the stone. The butcher would come the next morning to "cut it up", the result would be flitches, hams, spare ribs, fat for lard & a lot of trimmings there with the liver were made up into "fries" and taken out by us to a number of people especially widows who were extremely grateful, because meat was denied them by reason of their meagre income 2/6d a week & a baker's loaf. (Parish pay)
We had plenty of pork to last us some weeks, without buying butcher's meat "A feast of fat things", spare rib for Xmas dinner, what can you have better? With its usual, sage & onions & apple sauce, followed by plum pudding & mince pies. Scraps resultant of lard, pork pies, and souse or brown were still waiting to be consumed, & how they were enjoyed! The flitches, hams, chives were covered with salt & a little saltpetre & left for 3 weeks, left to drain then hung in the Royal Academy of home "pictures" indeed "on the line". Alas! That such scenes as these were not more common today".
Our battle continues with Covid19 and our community is continuing the fight Together just as the villagers did in the past.
Sam Clarke wrote about the help via sick clubs that used to exist before a Dr or the NHS was set up:
"The sick societies were a great asset to the village in times of sickness and bereavement but they were economically unsound, as the members grew older, the drain upon the funds was greater than income as a great number of the younger members had left the village to take up work elsewhere, and partly due to agricultural depression, numbers dwindled till something had to be done, the land had to be mortgaged, finally what little cash was left was divided among the few remaining members. One club still remains 1929".
An article by our chairman, Alan Higgins:

Blidworth before the NHS.
During the 18th century, several public houses in Blidworth formed themselves into clubs or friendly societies. These clubs, more commonly referred to as "Sick Clubs" were extremely well organised and kept strict financial record books that showed their particular society to be a financial and social success.
Members paid regular contributions into a fund and the aim of the Society was to provide sick pay and funeral benefit.
Founded January 3rd 1767, George Marlow of the New Inn Blidworth, situated opposite St. Mary's Church formed a Society. The rule book, financial and special events, members names, dates of meetings etc. are all recorded and still exist to this day. The first contribution was sixpence per month, but due to inflation the subscription rose to one shilling on alternate months.
In 1769 sick pay was 5 shillings per week. Funeral benefits were set at £5. On the death of a member's wife, he received 30 shillings, the death of a second wife, a further 30 shillings, these sums were deducted from the members own death benefits.
Around 1900 there were 5 such clubs in the village, all associated with the local inns and these "sick clubs" combined their resources to fund a club doctor. Doctor Saunders of Hucknall was chosen and he visited Blidworth, held a surgery, on Surgery Lane, each Tuesday and Friday mornings, and also visited the sick in their homes.
Some men belonged to more than one sick club, and were then better off "on the club" than at work, which led this worthy doctor to remark, "If a man belongs to one club, I can cure him. If he belongs to two, then I can do him some good. If he belongs to three, then he is incurable".
In 1923, the Newstead Colliery company began employing men at Blidworth to construct the new Colliery and these men together with the hundreds of men later employed in producing the coal, paid a compulsory amount into the company sickness scheme and thereby qualified for the services of local doctors who resided in the village. In 1924-26, the construction of the Colliery surface plant began and amongst these buildings was a medical centre. (Photo of Tommy Saville in the ambulance room, Blidworth pit – from
booklet Welcome to Blidworth courtesy of Denzil Jones.
A description by Michael Gallagher in his book reads as follows;
"The ambulance room is a model of what a room should be. The floors and walls are tiled, light blue and white tiles are used in the scheme, and a very pleasing and hygienic effect is produced. The equipment consists of a bath, operating table, cabinets for lint, dressings, splints etc. It contains everything that is necessary for the first aid treatment of wounds and fractures. There is also an electric water heater which may be used to obtain an instantaneous supply of hot water if required."
Blidworth miner's families, unofficially, used this facility, particularly in the case of emergency and Jack Wedd, the ambulance man who lived very close to the colliery was always on call both at home and at work. Jack and his wife Elizabeth were still the village first aiders until the 1950's.
Ransom Hospital near Mansfield was developed at the turn of the 20th century as a private hospital and later became an NUM funded hospital. Set in a lovely location within Sherwood Forest, the sanatorium was renowned for its fresh air techniques with patients sleeping on the open verandas of the wards. Newstead Sanatorium near Ravenshead was opened by the Duchess of Portland in 1942, Newstead specialised in treating Tuberculosis, a worldwide pandemic in its day, and although not completely eradicated, effective vaccines and antibiotics control the infection to a large extent.
Two doctors that began treating patients in the village during the 1930's. Doctor James Matthews with a surgery on the Crescent and Doctor Alan Spencer with a surgery on Dale Lane. Both used a surgery attached to their homes. Doctor Spencer continued to practice in the village until retiring in the 1960's and is remembered fondly for being a friendly character who knew most of his patients by name and in many cases was present when they were born, including yours truly. He often suggested to the parents of the newly born male children that they name the baby after himself, hence there was numerous Alan's in the village, again, including yours truly.
I remember his waiting room on Dale Lane very well, there was no appointment system, if you were ill you simply turned up and waited your turn. The room could be full, with 20 plus people in there, all sitting on hard wooden bench seats. You made a mental note of all the faces and went in to see the doctor after everyone who was there before you. Never once did you hear anyone saying "I was here before you." It was a system of one out, one in, while you waited for an hour or more in a room full of people coughing and sniffling.
One of the original wooden seating benches was transferred into the waiting area at the Blidworth Abbey Medical Centre, although very rarely used, today's patients seem to prefer the softer seats whilst waiting to be electronically paged.
In the years immediately after the Second World War the priority was the welfare of the people. The Minister of Health, Aneurin Bevan, was given the task of introducing a system of health for the nation, and in 1948 medical care became free and based on need rather than on ability to pay.
The NHS has constantly evolved throughout its history and today is almost unrecognisable as the service that was established 70 years ago. However, it is under significant pressure and facing perhaps its biggest challenges since it was established.
Together, we can ensure that everyone enjoys the best possible health and quality of life post-COVID.

A note in Harry Clarke's diary written in the 1930s-1950s, entitled Gipsy Ways by Gipsy Petulingro (page 1):
Another extract from Sam's diary, but annotated by Harry:
(When I was down Beck Lane getting bracken, I met Mr. "Neddy" Godfrey who was quite vehement and called Lloyd George for the break-up of the clubs, i.e., for bringing in the National Scheme. HC) -
John Wood, a long-time resident of Rainworth, local author/poet and a former Ranger book "A Walk Around Rainworth" – a walk, in verse of course, around natural Rainworth starting at Ell Lake on Burns Day 1987.
"Burns day 25th January 1989 a bad storm felled many trees in the woodland including one of the large black poplar trees on the field side of the lake and sadly the winds of 1990 felled the other."
The Battle of Burns Day 1990
Twas burns night 1990 when the wind whipped through the trees,
From the wailing of its chanter came a tune of unearthly ease,
A death toll of destruction was counted in its wake
For many fell that dreadful day in the woodland 'round Ell Lake.
In Wobo Wood a mighty beech, with roots ripped from the ground,
Lay toppled by the claymore of the wind which ran him down,
Ailing birch had their heads lopped off, as too did proud Scots pine,
When this strong wind blew with the breath of death and eerie, awesome whines.
A crack willow line of archers were smitten by the blast
As this harbinger of death attacked them and felled them in its path,
Their bows were left unlifted, their arrows left unhewn,
In death they lay defeated on that dreadful afternoon.
Some, they fell in Birch Wood; some in the Spinney lay;
Both the dead and dying awaiting their decay.
Others lay in Marsh Wood upon the boggy ground,
While some had partly severed limbs that hung so limply down.
The battle raged on Poplar Way where the giant poplar stood,
And like his friend who fell last year, he too shed his heartwood blood,
Twisted and shattered he toppled and fell, caught by a neighbouring pine,
The storms of '90 had taken their toll as they had in '89.
And when the battle was over and Burns Day was many hours passed,
And the winds of destruction had moved on their way, tranquillity reigned at last,
A still, silent calm of reflection; of absent friends in the crowd,
Whom we'll think of many years to come when the winds of destruction roar loud.
A poem by Arthur Radford, to light our way in these dark and stressful times:
The
Sun
The sun, earth's star providing light and warmth for all life,
Be it creature or plant or fish in the sea,
All welcome in the morning of their turn,
As the sun shares itself with every one in the dawn of each day,
A new dawn to some but first warmth will tell them.
They are here on earth's gifted place to see the light of life.
Some will witness drama, some joy but each will welcome the first beams of sunlight to start them on their purpose of being,
To bring new life of their kind on earth's welcome bosom.
Here to Help during the COVID-19 Crisis Visit Blidworth And Rainworth Fight Against Covid-19 Facebook page set up by the Blidworth and Rainworth Parish Councils; the Sherwood Forest Community Church C of E and Methodist Churches in Blidworth, as well as the Blidworth Welfare, the Head-teachers of Local Schools and the Social Action Hub (Food share and Co-op). Our purpose is to supply useful and accurate information to the community and to help the vulnerable at this time. We recognise the outstanding response that members of the community have had by making pages etc, this is just a way of consolidating all the various groups.
Contact them on the following numbers:
Rainworth Social Action Hub food share 01623 490498
Blidworth on the move for medical transport 07915 929933
Blidworth food share at Sherwood forest community church 07907 664862
December 2020
At this time, when we are unable to meet up, we are putting information on our Website and Facebook page. They have both been updated regularly. If anyone would like to ask for some specific information you can contact us (safely) by email at the above address.
But for those members who do not have access to technology we've put together a News Sheet. This will be issued into our community, as safely as we can. See a copy – pass it on SAFELY! If you would like one emailing let us know at above address.
The Holly & the Ivy – Christmas carol from the "Prayers & Hymns" book for use in schools:
"The holly and the ivy, when they are both full grown, of all the trees that are in the wood, the holly bears the crown;
Chorus: The rising of the sun and the running of the deer, the playing of the merry organ, sweet singing in the choir"
The holly bears a blossom, as white as the lily flowers, and Mary bore sweet Jesus Christ, to be our Saviour;
Chorus:
The holly bears a berry, as red as any blood, and Mary bore sweet Jesus Christ to do poor sinners good;
Chorus:
The holly bears a prickle, as sharp as any thorn; and Mary bore sweet Jesus Christ on Christmas day in the morn;
Chorus:
The holly bears a bark as bitter as any gall, and Mary bore sweet Jesus Christ for to redeem us all;
Chorus:
The holly and the ivy, when they are both full grown, of all the trees that are in the wood, the holly bears the crown.
Final chorus:

This picture was posted on Facebook earlier this year, anyone you know? The shepherd sitting on the front row second from the left is Paul Candlin. This was a nativity play performed at Blidworth County Council school circa 1958/9.
Memories of Christmas when attending the Blidworth County Council School, Blidworth (now Blidworth Oaks Primary School) infants and juniors:
Beginning of December; the tree arrived in school and once in position in the main corridor, the task of decorating it began. Each child was asked to bring a decoration they would like to put on the tree! "A wreath of greenery with bells and sparkles plus snow was what I took each year. I still have those decorations today".
"The preparations for the Christmas Nativity play began – angels with wire halos affixed their heads and wings of white tissue paper over a wire frame hung from their shoulders; shepherds with mum's best tea-towel on their heads, held firmly by the trusty snake snap belt; Mary and Joseph walking up and down the stage seeking a place to rest their weary heads – then the baby doll laying in a manger".
"The last week of school was preparing for our Christmas party, we all had to take: a plate, cup, dish, cutlery on the day – to make sure it came back home your name needed to be on each item, "plasters were stuck to the bottom or around the item and our names written on the plaster"!"
"When I was at Joseph Whitaker School, I took part in several plays – but one in particular; A Christmas Mummers' play, was brought back to mind whilst transcribing the diary of Sam Clarke. (In Sam's diary he wrote about a traditional mummers' play that was performed in the village in his day.)
Mummers' plays are "folk plays" performed by troupes of amateur actors, traditionally all male (not to dissimilar to a panto). Generally, a play has a number of characters called on stage, two will engage in combat; the loser being revived by a doctor character. Mumming spread from the British Isles to a number of former British colonies and is sometimes performed in the street but more usually during visits to houses and pubs! They are performed seasonally or annually – often at Christmas, Easter or on Plough Monday (Sam's diary "An ancient custom is Plough bullocking celebrated in the evening of the second Monday in the year. Mummers in improvised dresses used to visit people's houses and give a little play, VIZ: 1st PB; In comes bold Tom, brave and active fellow.")
According to Wikipedia, although the term "mummers", has been in use since the Middle Ages, no scripts or details survive from that era and the term may have been used to describe performers of several different kinds. The earliest evidence of mummers' plays as they are known today is from mid- to late 18th century and should not be confused with the earlier "mystery plays".
So, back to the Joseph Whitaker Christmas Mummers' play; the cast -

Note the combatants Captain Slasher; Prince George; Turkish Champion – weapons swords and pistols, plus the Noble Doctor to heal the loser! Plus, there also lurks the devil – Beelzebub! All the shouts of "he's behind you" or "no he isn't" elements are present! The character – A Clown; circled here seems a little strange, maybe? You may be forgiven to wondering what this character had to do with the play, as did I.

You've guessed it – that was my character and when given the "script" and my part I was pleased to note I had nothing to say from the script and I got to wear full clown make-up! Great I thought, but no my hopes were dashed when told I needed to narrate the action throughout the play and ad-lib to create audience participation – nightmare!
But along with my fellow actors, the show must go on!
But along with my fellow actors, the show must go on! So, with script in hand the group performed. The tale of the fight between the King of England and the Turkish Champion was told.
Then with the troupe on stage they began the song: "Ye gentlemen of England, we'll have you to draw near, and mark these lines which we have said and quickly you shall hear; and quickly you shall hear with your half-pence and strong beer; and quickly we'll come no more a-acting until a-nother year!

The winter it is coming on, dark, dirty wet and cold; and to try your good nature this night we do make bold; this night we do make bold with your 'alfpence and strong beer; and we'll come no more a'acting until another year………."
The cast one and all were congratulated by the audience and their teacher too:

Hope you all have a safe, happy and festive Christmas despite Covid-19. Jayne (W)
*copies of the full play are available email
blidworthhistory@virginmedia.com
Christmas cards, sent as part of the traditional celebration of Christmas to convey between people a range of sentiments related to the "holiday season". The first modern Christmas card was illustrated by John Calcott Horsley, London in 1843. But the first recorded Christmas cards were sent by Michael Maier to James I of England and his son Henry Frederick, Prince of Wales in 1611.
Nowadays cards can be crafted, paper, virtual but still the message is the same, conveying the sentiments of the holiday season to family and friends, both far and wide.
Early British cards rarely showed winter or religious themes, instead favouring flowers, fairies and other fanciful designs that reminded the recipient of the approach of spring. This year our Christmas cards will surely have us looking longingly towards spring and an end to Covid-19.
Here one of our members, Pamela Morley, shares some of her reflections with us:
"I have just got to the end of the articles that you sent to me. I have to say that I found them all fascinating! Thank you so much for sending them. You must have put a lot of hard work in.

We regularly walk from Nomanshill Wood across to Rainworth Water and sit alongside the water with a picnic. We have also walked the full length over to the L Lake. (seen a few deer along too there!) I bet there's a good opportunity for a metal detectorist in the area then if the Romans were there!

Our little cottage on Chapel Lane (Main Rd end) of Ravenshead was originally built in 1818. (Not long after the Napoleonic war) We were part of Blidworth Parish many, many years ago. We were also just inside the old boundary of Newstead Abbeys estate long ago. We have the parchment deeds and they are interesting to read.

The old (now gone) Ebenezer Chapel was across the road from us. We had work done to the fireplace some time back and there's still metal pins up the chimney breast which the sweep boys used when sweeping the chimney! (Yuk.). We still have the original beams in the original part of the house. A bit more was built on to it 31-32years ago by the chap we bought it off.

After moving in I recall standing at the back door of my little cottage thinking "It's not ours...we are just the custodians for a while." Funny how your mind sees things in an old place!

Thank you for all the information that you have put together. It's really appreciated. I've passed it on to all of my family to read as I know they will be interested too.

Well done! and thank you all for the work you have all put in."
Pamela Morley.
Another member, Christine Dabbs, recently sent the following prayer to share with you all:
Dear Alan thank you for sending me all the letters I love them all, this year has been put on hold for everybody no holidays and keeping away from a lot of our family and loved ones. We moved a year ago and have a big garden so it has been great sorting it out and growing lots of veg, and what kept coming in my thoughts was a prayer Sgt Major Matthew Clay (my family) wrote, which I have at home, so I would like to share it with you.
Giving thanks to God when getting the produce of the garden.
"Be pleased O Lord to accept my humble thanks for thy bountiful goodness in graciously
bestowing thy blessing on the labour of mine hands and hast spared my life to enjoy the
fruits of my labour, O that my life so spared may show forth thy praise that I may hence
forth serve thee acceptably through Jesus Christ Amen."
Matthew Clay.
When you know his life stories and the things, he saw through his life I am so proud of this young lad who left his home and family in Blidworth for an amazing journey through his lifetime, and I will always try to keep his memory alive for local people to remember our past.
Take care and keep safe to all my friends at Blidworth Historical society and hope we can get together soon, all my best wishes Christine 'Clay' Dabbs.
Here to Help during the COVID-19 Crisis Visit Blidworth And Rainworth Fight Against Covid-19 Facebook page set up by the Blidworth and Rainworth Parish Councils; the Sherwood Forest Community Church C of E and Methodist Churches in Blidworth, as well as the Blidworth Welfare, the Head-teachers of Local Schools and the Social Action Hub (Food share and Co-op). Our purpose is to supply useful and accurate information to the community and to help the vulnerable at this time. We recognise the outstanding response that members of the community have had by making pages etc, this is just a way of consolidating all the various groups.
Contact them on the following numbers:
Rainworth Social Action Hub food share 01623 490498
Blidworth on the move for medical transport 07915 929933
Blidworth food share at Sherwood forest community church 07907 664862
"Blidworth and the First World War" is a unique work produced by John and Dale Smallwood, and is published by the Nottinghamshire Local History Association.
A superb Christmas present. Just £8 to members with free delivery to Blidworth & within 5 miles
Our Society is extremely proud to be associated with this book and consider that the many months of planning and research, not to mention the long hours spent in ensuring that the subject is covered in as much detail as is necessary to demonstrate how the First World War effected our village.
Read about how life in the Parish of Blidworth, that at the time included Fishpool, Rainworth and Blidworth Bottoms, changed during the first thirty years of the 20th century.
Such has been the demand for the book that it became necessary to place an order for a reprint and therefore copies are once again available directly from the Blidworth and District Historical & Heritage Society.
The book commemorates the local men who sacrificed their lives in the 'War to end all Wars'. It also tells of how the war might have been avoided if a shooting accident had ended in a fatality.
We glimpse life as it was through the eyes of bootmaker, Sam Clarke and hear stories about the daily life of our Parishioners. We learn that Blidworth had the first Co-operative in the country. We introduce the reader to 'Plough Bullocking' and learn the rules of 'Husky Fusky'. We also tell of the revival of the unique 'Rocking Ceremony' in St Mary's Church of the Purification.
The men who returned from the war faced great changes and some experienced severe hardships. The village became less dependent on agriculture as the mining industry developed and changed completely with the sinking of Blidworth Colliery.
The book contains over 120 pages and is richly illustrated with photographs of Blidworth Parish and its people, many of which have not been previously published.
NOVEMBER 2020 NEWS SHEET:
Sam Clarke wrote, referred to the Harvest and the Mansfield Statutes Fair in the 19th century:

"Harvest was a time when every able-bodied man & woman who could be spared sallied forth to shear the wheat with the historic sickle, barley was mown with a scythe & carted loose, and oats were a negligible quantity. Women & children also used to glean the fields as soon as the crop had been gathered, no farmers would have dared to stop them, as they deemed it an inalienable right even as Ruth on the plains of Bethlehem. In the Psalms we read of the JOY of harvest and truly it was a joyful pleasant and profitable period when a little extra money was earned to meet extraordinary expenses. Almost every family fed a pig for their own consumption and so the corn gleaned when threshed with a flail would be taken some windy day, chaff and all, into a field, a sheet was spread on the grass, the corn being poured steadily over the sheet, 4 or 5 feet high, the useless chaff would flee before the wind, the resultant wheat would be sent to the village windmill to be turned into flour for bread, if mixed with other corn, meal for the pig which when fattened was usually killed for Christmas or the *Rocking Blidworth Feast 1st Sunday in February."
"Farm servants, male and female, were hired at the Mansfield Statutes Fair on the first Friday in November; they would generally walk to Mansfield then take their stand on the pavement at the bottom of Leeming Street facing the Town Hall, the girls on the Westgate side, the "Chaps" on the Church St. side waiting to be hired, after a deal of haggling on both sides, a bargain was struck , "earnest money", or commonly called the "Fastening Penny" generally about 2/6 was given to the future employee to clinch the bargain, arrangements were made as to date to commence work, which was usually the latter end of Nov. Leaving day was Nov. 23, Martinmas day, when their wages were paid; they would then pay their laundress for washing and mending their clothes for the year 10/- usually, cheap enough! Shoemaker and Tailor were visited paying up, and if natives, getting measured for another rig out for the coming year. How they managed to save anything at all was wonderful. A weeks' holiday!! Before were pitchforked into a new environment. Are you stopping "again?" some old greybeard would ask his equally aged and hirsute townsman, was an annual joke, "Ah! A don't think a'shall shift this year" was the usual reply. Mansfield Statutes is still held, but only as a Pleasure Fair. At some of the larger farms a harvest supper was provided for all those who had helped in any way, men and women, the gathering took place either in the barn or the commodious farm kitchen, after a good "tuck in" tables were cleared, songs were called for and responded to by members of the company, healths were drunk perhaps oftener than was necessary, home-brewed beer being served ad lib. Cheers for the Master and Mistress were given with gusto and wishes expressed for a bumping harvest next year. They then wended their way home as well as head and legs would permit; to begin another year's "daily round and common task", drab but full of infinite variety."
Blidworth and the First World War - by John & Dale Smallwood; on behalf of the B&DH&H Society.

"Forward: Our late President, Bill Richards had an incredible memory for the things he had experienced and witnessed. The Society is grateful that his interest in local history encouraged him to delve into the Parish of Blidworth's past and record it in one or other of the many books he wrote. Bill was born during the Great War and was able to be part of how Blidworth changed following the conflict. Furthermore, he was always willing to pass on his knowledge and was an inspiration to everyone who shared his interest in local history. Interestingly, but not surprisingly. The time he spent fighting in the second World War was spoken sparingly and the event that led to him being mentioned in dispatches for bravery was a subject he totally refused to discuss or describe. He did allow his citation to be displayed but that is as far as he was willing to go."
For more see the book, members can borrow from our archives or you can purchase the book by emailing us at
blidworthhistory@virginmedia.com
It was 1920 before the village had permanent memorials to those who lost their life in the Great War. One erected inside St Mary's Church; along with a role of honour, and one inside the Wesleyan Chapel.
It was 95 years later that the village got a war memorial that included those that died in WWI but also WWII and also in subsequent wars.
An extract from Sam Clarke's diary follows:
"My Ancestors
John Clarke was a "stockinger" or framework knitter, he also acted as Corporal in a sort of Militia, styled the Nottinghamshire Marksmen, from which many men were drafted into the old 45th Regt; their rules and regulations I have in my possession. It is bound in parchment, quaint and curious recipes, to cure or relieve every known disease."
Later, Sam's own brothers James and Adam fought in WWI. The following is a letter sent from France, where Adam was in the army:
"REPLY TO: Pt A Clarke NO: 625121 Dec 28th 1915 6
Shorncliffe Canadian Headquarters C.T.D.
Dear Brother & Sister Niece & Nephew Just a line to let you know how I am getting along. I have been down to Hastings since the last time I wrote. My work has been Guard Duty all the time. I have been going to and from Dover to Havre in France on transport & returning to Southampton with Prisoners of War. The most miserable objects you ever saw. There are 50 guards on each boat with fixed bayonet and ball ammunition. I feel sometimes like having a shot at one. I have been trying to get a pass for 6 days but I can't get one yet. They don't seem very anxious in giving us a pass. Because we are over Age for France. I am in the best of health at present hoping that you all are the same. We had quite a good time this Xmas. Hoping you all had the same & wishing you all a happy and prosperous New Year. From your loving Brother",
The Society have the letters that James, who emigrated to Australia and Adam, who emigrated to Canada and they have been transcribed and are an interesting read. Some letters were simply addressed:
Digital copies of the letters are available by emailing the society at
blidworthhistory@virginmedia.com
Later in WWII Harry Clarke, (Sam's son) saw both the start and finish of that war. Recording both the local activities of the time and commentating on the national and international events.
1939 - "Sept 3 Sun – England declared war on Germany at 11. A.M.
We were in Chapel & Mr F Houldsworth came & told me to keep the children to the end of the service, as we were going out early. We went out at 11.5. The children were very impressed. I heard one say, "Wasn't it solemn". One boy wept a bit.
We hurried home to hear Mr Chamberlain at 11.15. The preacher was Mr Shaw, he should have stopped all day but he went home. G. Clarke preached at night.
Sep 4
At 3 A.M. the blowers went for an air raid, but we all stopped in bed. A lot of people got up & went to the top of Rookwood Gardens. The blowers went again at 6 A.M. for another air raid. I took my gas mask with me to work. When C Kirk's bus came to take us to work, we all got inside & then we considered, as there was an air raid we had better get out, so out we came, but the blowers went in about a minute.
Sep 8
The windows on the screens are being painted black on outside. All corners of buildings painted white. Sandbags round offices. Firefighting appliances everywhere.
Sep 9
Gave Mr H Clarke a marrow weight 9lbs. Gave Mrs C Cragge one 71/2 lbs. Mr H Clarke showed me how to grow them."
He worked through the war at Rufford Pit. Became an air raid warden and was certified as trained in dealing with High Explosives & incendiary bombs. He used his garden to supplement the family's pantry and continued his excellent teachings at the Church.
June 18 Tues
"Had a certificate from the pit to say that I was trained in High Explosives & incendiary bombs. We are learning Ambulance work now. A soldier was on duty against the bridge at Rufford. He stopped several cars & examined them."
The local women setup Women's Voluntary Service (WVS), the "women in green" supported the local community and the armed forces. Making a difference to life at home and at the battle front.
Cup a tea! Blanket, or a meal. Packages for the men at the front – knitted Balaclavas; scrap metal collection!
Page 69 of Blidworth and the First World War book, gives list of what would be in a typical parcel:
A balaclava helmet – a knitting guide was provided.
WWII – the "women in green", as they were known; operated canteens; evacuation; bomb shelter; first aid and emergency centres.
1938 - 1945 war work
The War Memorial on Main Street, Blidworth pictured here was dedicated on 3rd November 2007 and although originally it was to include the fallen servicemen and women of WWI, it was decided to include from WWI to Afghanistan.
The book "Remembered In Silence" by Tom Murray gives insight to the research and inauguration of this memorial – Society members may borrow the book from us (we have 2 copies) or loan it from Blidworth library.
This year, due to Covid-19, the service of remembrance will not be possible. However, those who wish to pay their respects can lay a wreath at any time from Sunday 8th November to the 11th November.
Remembrance Day commemorates the sacrifice made by servicemen in times of war. In the United Kingdom the day was first commemorated in 1919, when it was known as Armistice Day, with two minutes silence at 11am on 11th November. The day marked the anniversary of the signing of the Armistice that brought World War One to an end in 1918. Its name was changed to Remembrance Day after World War Two. Owing to the COVID-19 pandemic and in light of the risks posed, the annual Remembrance Sunday March Past the Cenotaph will not take place this year. We recognise this will be deeply disappointing for all who were due to take part and it is not a step that has been taken lightly. The Government led Remembrance Service at the Cenotaph will continue to go ahead as a closed ceremony.
Despite the changes this year, we are encouraging people across the nations to ensure Remembrance Sunday is still marked appropriately by taking part in remote and socially distanced Remembrance activity, whether that be watching the service on television or pausing for the Two Minute Silence in their home or on their doorsteps.
https://www.britishlegion.org.uk/
However, you show your respect to those that gave their lives so that we may live; wear a poppy bought or made or lay a wreath remember that every poppy counts!
For more information see RBL site.
https://www.poppyshop.org.uk/?gclid=EAIaIQobChMIwISeovjf7AIVg-3tCh3oVg22EAAYASAAEgLjU_D_BwE&gclsrc=aw.ds
As we enter another lockdown for Covid-19, remember the above message and that there is help locally for anyone needing company, shopping, medical appointment travel etc.
Here to Help during the COVID-19 Crisis
Visit Blidworth And Rainworth Fight Against Covid-19 Facebook page
This page has been set up by the following organisations to centralise the brilliant response our community has had to fight the Coronavirus. The organisations are: the Blidworth and Rainworth Parish Councils the Sherwood Forest Community Church., C of E and Methodist Churches in Blidworth, as well as the Blidworth Welfare, the Head-teachers of Local Schools and the Social Action Hub (Foodshare and Coop). We hope that more of the local community will join us. Our purpose is to supply useful and accurate information to the community and to help the vulnerable at this time. We recognise the outstanding response that members of the community have had by making pages etc, this is just a way of consolidating all the various groups.
Or contact them on the following numbers:
Rainworth Social Action Hub food share 01623 490498
Blidworth on the move for medical transport 07915 929933
Blidworth food share at Sherwood forest community church 07907 664862
October's News Sheet
Following is an extract from Sam Clarke's diary:
Water supply in 1888 see Kelly's directory. Water Supply
Little is known by the current generation of the difficulty of obtaining water in the good old days. Our well, 30yds deep served over
25 houses and was situated as the plan.
"When a new bucket or rope was needed the cost was ascertained and collected by our father and John Ashley (another shoemaker who lived across the street) from those who used the well. It was quite a feature of our end of the village for men to foregather and draw their daily water supply, while waiting for their turn to discuss the latest news, local or otherwise.
There were about 15 wells in the village also 6 huge stone troughs in the street at intervals that served the middle of the village, 2 of them were in the open space in front of the Black Bull a protecting wall at the back was a favourite loafing place for all and sundry. As well water was too hard to wash with, almost everybody had large tubs to hold rainwater off the house roof; in a dry summer when they were empty, we would fetch a supply from "soft water" trough half a mile away, a spring which has not failed to the present day.
Our present water supply has been a great boon it being much easier to turn on a tap than draw from a moss covered well, poetic! To some, yes, but not a tired-out labourer who had done more of his share of work during the day for a paltry half-crown. Ern Elsom told me he had two wells where he lives (i.e. just above me in Winch's old farm) one down the cellar. He said there was a deep well in the back yard of Holloways' farm (i.e. the old rambling house at the top of Marriot Lane, where old Mr Collins lived) and he said his brother uncovered one down Fishpool Lane in a little 3 corner of a field, set in the hedge bottom."

During lockdown, local veterans received contact from their regiment; SSAFA or RBL, keeping in contact and boosting moral for both veterans and serving personnel.
This month is the 17/21st Lancers commemoration of their most famous battle – Balaclava!
Most people will have heard of the poem by Alfred Lord Tennyson:
"Half a league, half a league, half a league onward, all in the valley of death rode the six hundred.
"Forward, the Light Brigade! Charge for the guns!" he said, Into the valley of death rode the six hundred. "Forward, the Light Brigade!" was there a man dismay'd? Not tho' the soldier knew someone had blunder'd: theirs not to make reply, theirs not to reason why, theirs but to do and die! Into the valley of death rode the six hundred.
Cannon to right of them, Cannon to left of them, Cannon in front of them Volley'd and thunder'd; Storm'd at with shot and shell, Boldly they rode and well. Into the jaws of Death, Into the mouth of Hell
Rode the six hundred."
In 1759 the 17th Light Dragoons were born, following a battle in Canada. It later was amalgamated with the 21st in 1922 to form the 17th/21st Lancers. It is most famous for riding in the front line of the Charge of the Light Brigade at Balaklava in 1854.
The choice for a badge the Death's Head with the motto 'Or Glory' was made following the death of General Wolfe. This Motto remained unchanged, continuing as the Motto (cap badge) of The Queen's Royal Lancers.
In recognition of the Queen's 70th Anniversary as Colonel in Chief, she granted the suffix "Queen Elizabeth's Own" to the regiment and later the badge incorporated the crossed lances representing the 9th/12th Royal Lancers amal
gamation, whilst retaining the original motto "death and glory" to be the motto today.
Battle of Balaclava - 25th October 1854 of the 147 17th Lancers that charged, only 38 answered the roll call after the battle. For their gallant actions that day, three Victoria Crosses were awarded to members of the Regiment.
Although the 17th remained in the Crimea for the rest of the campaign, they did not play a major role in any of the remaining battles, which were predominantly infantry affairs.
The Royal lancers and the Notts Yeomanry museum are at Thoresby Courtyard, Thoresby Park. It was opened on 26th July 2011 and although closed during Covid-19 has now reopened Wed, Thurs and Sunday from 19.30-4pm. Coronavirus precautions have been applied with distancing measures in place and sanitisers available. For safety reasons some hands-on attractions have been temporarily withdrawn, but there is still plenty to see and enjoy.
The 17th was present in every major conflict and the museum will give a fuller history.

Newstead Abbey, Ravenshead was formerly an Augustinian priory. Converted to a domestic home following the dissolution of the monasteries, by order of Henry VIII.
Despite the name "abbey" it never was but in fact was a Priory. It is best known as the ancestral home of Lord Byron.
Another family were owners of Newstead and link to our story of the 17th / 21st Lancers, earlier in this news sheet.
Dr David Livingstone met William Frederick Webb, an explorer and hunter, during Autumn of 1851. Webb had been hunting north of Cape Town sending trophies home, and for 2 years it was feared that his party was lost or dead because no correspondence was received. In a place called Kunman, Webb became ill with a fever and the expedition was at a standstill. Dr Livingstone heard through the natives that a white traveller was sick some distance off and set out to search for them. Finding Webb and his party he cured him. The two men became very good friends and stayed together for some months, talking at great lengths about their respective families and life in England. They agreed to meet up again should they both be in England at the same time.
William Frederick Webb inherited a considerable fortune from his uncles and his father, Frederick Webb who was a land owner and industrialist of Durham. In his early years he received a commission in the 17th Lancers, aged 18 – served in Ireland in 1848 but later resigned his commission in favour of his younger brother Augustus.
Captain Augustus Cavendish Webb died of his wounds at Scutari 6th November aged 22 just one week after he fell mortally wounded during the charge of the light brigade at Balaclava.
Webb continued to make a considerable profit from his properties and land. In 1861, Mr & Mrs Webb purchased Newstead Abbey from Colonel Wildman, outbidding Queen Victoria to acquire Newstead. Mr Webb moved his family in and set about improving Newstead; installing central heating and gas lighting amongst many things. Mrs Webb contributed by filling the house with Byron memorabilia and entertaining guests from all over the world. In 1864 one such guest was David Livingstone, who having returned to England for the 2nd time after exploring the Zambezi river and its tributaries, was persuaded by the Webb's to visit Newstead. The first of many visits, he stayed for 8 months to write his book on the Zambezi, which proved to be a literary sensation.

Speedwell and Mayflower – in July we saw the start of the epic voyage of the Pilgrims from England to the New World, and the 400th anniversary of that voyage.
Having repaired the leak on the Speedwell the ships set sail for America around the 5th August 1620. But Speedwell sprung another leak necessitating the ships to return to Dartmouth for repairs. Another start after these repairs put them 200 miles beyond Land's End, early September when a third leak meant they had to abandon the Speedwell – both ships return to Plymouth and 20 Speedwell passengers joined the overcrowded Mayflower whilst the others return to Holland.
As the Mayflower waited for the wind to pick up William Bradford became especially worried saying "Our victuals will be half eaten up, I think, before we go from the coast of England; and, if our voyage last long, we shall not have a month's victuals when we come in the country."
Speedwell had cost time and money to refit and was said to be seaworthy –
Bradford suggested that "it's master may have used "cunning and deceit" to abort the voyage by causing the leaks, fearing starvation and death in America".
At last the overcrowded Mayflower was ready - this final voyage would succeed!
September 26. 1620 the Mayflower set to sea; its passengers had been on board the entire time from early September attempts cooped up in cramped spaces. Provisions were low. She carried 102 passengers plus a crew of 25-30 officers and men.
The first half of the voyage they had calm seas. Then the weather changed with huge waves constantly crashing against the topside deck. The physician Samuel Fuller died and was buried at sea.
A baby was born, christened Oceanus Hopkins; one storm saw the ship drifting without hoisting the sails as the storm was so fierce, they risked losing the masts. John Howland was swept overboard, sunk 12feet but then rescued by a crew member who threw him a rope.
Passengers were forced to crouch in semi darkness below deck as ocean swells rose to over a hundred feet. Holding on to wives, children and their provisions and property they made their way through October always seeking that landing and their new lives.
Thoughts of their old life in villages such as, Scrooby and Babworth must have seemed unreal and far away.
An extract from John Wood's "A Walk Around Rainworth"

"Several years ago, I was talking to Barry Maddocks in Bishop's Hill plantation. Barry said "I think that the chaffinch, John, looks as though an artist has flicked his brush across his pallet and a splash of all of the colours has landed on this bird" – I thought of Barry's words as I watched chaffinches for a while after our conversation and on the 18th September 1986, I penned:"
Bird of Many Colours
Were you painted by Reuben's?
Were you painted by Van Gogh?
Are you a product of Picasso with the colours that you've got?
No, you're better than old masters,
You're a treasure of the earth
No-one could put a price on you You're beyond all earthly worth.
Nature was the artist who made you what you are,
She painted you in bright array
To brighten up our dreary days,
Your call of "pink", a coloured call,
And when you sing from exposed perch
I sit without a flinch,
To look at you and listen to My beautiful chaffinch
Friar Tucks Well Fountain Dale 2004 This card is amongst our archive and the sender remarked:
"You will be shocked to see the state of this place. I guess it is on private land belonging to Fountain Dale, so it is up to the owner whether it gets restored or not."
From Facebook photos recently posted it is still in a bad state but a nice walk to take. Fountain Dale House, Rickett Lane, Blidworth,.
Fountains Dale

Visit the home of Friar Tuck, the jovial friar, one of Robin Hood's Merry Men, mostly depicted as a fat, bald, jovial monk with a love of food and drink. We visit his holy well in Fountains Dale, believed to be the location of Robin and Friar Tuck's first meeting.
Friar Tuck was accomplished with bow and sword, so on hearing this from Will Scarlet, Robin felt he must have this doughty fighter in his band of outlaws. The story of their meeting, carrying each other back and forth over the still-visible moat is one of the popular myths associated with the legend. Nearby is Friar Tuck's Cave and Fountain Dale House where Sir Walter Scott penned his most famous work 'Ivanhoe'.
The Council for British Archaeology's Festival of Archaeology Part II - another week of events to get people engaged with and enthused about archaeology, from 24 October - 1 November. See website for more details
https://festival.archaeologyuk.org/
Digital and on-site activities available.
Keep safe and well.
September News Sheet:

Autumn is the transition season between summer and winter, best noticed by the colour change in leaves and the harvest.
Perhaps the most noticeable sign of autumn in the UK is the changing colours of the leaves.
By the meteorological calendar, the first day of autumn is always the 1st September and ending on the 30th November.
A local poet and author, Arthur Radford wrote:
Autumn
"Autumn is slower now for the mother of the kids. The four boys are after conkers and can't wait for the chestnuts to ripen. The three girls are learning to grow up, now another sister has been born. Trying to walk in their mother's high heeled shoes and lipstick their mother hardly uses, for she hardly goes out, not with this lot to keep.
The rich lady, Mrs Watson, is sitting in her study, a widow of many years, looks out of her window. The wallflowers are still blooming, so are the geraniums. The maid is washing the cups and saucers and the gardener is giving the privet hedge its last cut.
Mr Thomas is walking his dog Butch, down the lane, by the meadow and collecting some sloes to make into sloe gin. He might be ragged but he knows a good thing or two.
He is chatting up the ladies, he has high hopes of finding someone to live with, all he wants is a cook, cleaner and a washer up. I wish him the best of luck, for women are not looking for blokes in the Autumn, they're looking for winter clothes and winter blankets to keep them warm at night and will wait till spring to look for a man- so I wish you the best of luck, Arthur"

During lockdown many delved into attics or dark corners of their homes, seeking distraction from the boredom and confinement of Covid-19. The treasure unearthed initiated contact with long lost relatives and friends.
One such item was from Andrew Whitworth – his grandfather Arthur Dodsworth, worked at Blidworth Pit and was concert secretary at Blidworth Miners Welfare. Whilst rummaging in boxes Andrew found one of his grandads' pay slips. Not that striking a document (but its in £ s d) but on checking the reverse for a date he discovered a signature of a very well-known lady artiste.
Sincerely yours Vera Lynn!
It is not known how or when Arthur got the
autograph, but being the concert secretary would have had him rubbing shoulders with many artistes giving shows at Blidworth Miners Welfare.
There is a second signature on the payslip – but we cannot interpret it – Can anyone?
Do you know if or when Vera attended the Welfare? Let us know either by email to
blidworthhistory@virginmedia.com or via our Facebook page.
As a historical society we saw our numbers on Facebook rise and the generosity of our community to share such treasures with us and the villages around was magnificent to see and feel.

Another item shared was this:
A Walk Around Rainworth, Book 1 by John Wood.
John lives in Rainworth and has a wealth of knowledge about the Village and has written several poems, stories about it. John has kindly given his permission for us to share his work with our Society.
Introduction:
"I would like to take you with me on a walk, in verse of course, around the Rainworth area. Nature has always been a passion of mine and features strongly in my poetry and prose, as you will gather when you read on. Our walk commences at Ell Lake."
We now have a copy of this book donated to our archives should anyone wish to borrow it.
Ell Lake – The date was the 25th January 1987, Burn's Day. I was walking by the main lake at the western end and had paused awhile to watch a party of long-tailed tits tumbling in an alder when I caught a glimpse of russet from a neighbouring willow tree:
Bullfinch:
"Watching through binoculars the long-tailed tits on high;
Tumbling in alders, next falling, dim-lit sky,
I caught a glimpse of russet from a neighbouring willow tree;
A bulbous, reddish breast and black cap I could see.
He was grey across the shoulders with a white flash on his wing,
His piping note on Burn's Day seemed a fitting note to sing.
Two females were with him in this willow next the lake,
A glorious sight in evening light, make you no mistake;
Bullfinch in all his glory in the branches upon high,
The sun had risen once again to light the evening sky,
And like the sun my heart rose too and readily did sing
As I watched in awe and wonder till the bullfinch took to wing,
Across the lake and out of sight he and the females flew
And vanished in the fading light of January blue."

We have received several requests for information that we have answered or are in the process of researching.
Elmsley Lodge search was begun and still under progress but we have had help from as far away as Australia! Thanks Tom.
Tom's message on Facebook "Elmsley Lodge was north of the old Rufford Pit Sidings. A rail line ran from Rufford pit up towards Clipstone. The Lodge was to the left of the railway line when looking towards Clipstone, you could get to it from a track off Eakring Road."
Looks like a walk is needed – more to come later!
If anyone has photos, documents relating to the lodge then please let us know either via our email or Facebook Page.
Ravenshead – Following the piece in August's news sheet we received lots of comments on Facebook of several well remembered landmarks and events.
The Hutt – a Berni Inn; can you remember it?
The Hutt is a public house located in the village of Ravenshead in Nottinghamshire, opposite Newstead Abbey. The pub was built on the site of The Royal Hutt in 1400 as part of the Newstead Estate, which was given to Sir John Byron in 1540.
Built on the site of the first building in Ravenshead, The Hutt was one of seven buildings constructed to allow the King's men to patrol the nearby forest. The Inn takes its name from the medieval spelling of the word 'Hut'. The Inn boasts a tunnel that was reputedly used by monks to get from Newstead Abbey to The Hutt. By the 17th century the pub had been turned into a coaching inn hosting merchants and travellers travelling between Nottingham and Mansfield. It is reported that at the inn they would take on some Dutch courage before setting off on the journey through 'Thieves Wood'.
FACEBOOK COMMENT:
"Lovely hearing all about the history! "I lived in Fishpool to become Ravenshead from 1962 - 1980 opposite The Little John Pub. I can remember Bonfire Nights on the pub field. There used to be a hunt there once a year. Whippet racing behind the old cottages. I attended Blidworth Church school which only had 5 classes from the age of 5-11. Mr Whitworth was the Headmaster. Then going on to Joseph Whitaker Secondary Modern School, which seemed huge after The Church School.
Also started drinking at The Hut on Nottingham Road which a cellar Bar. Very sophisticated for its day."
The sophisticated "cellar bar" at the Hutt – which in those days was part of the Berni chain of steak houses – where you could get wine by the glass!!
The Little John, recently re-opened again with new landlords.
Extract from Sam Clarke's diary, in which he referred to Fishpool (Ravenshead) back in his time in the 1900s; (these are his own words):
"Blidworth Parish is off the main roads being about equi-distant from the Nottm, Southwell and Rufford Roads. Distances: 5 miles S.E. of Mansfield, 10 miles N. of Nottingham, 8 miles W, of Southwell and 16 W. of Newark.
The Bottoms or Lower Blidworth comprising a many dilapidated old cottages, a P.M*. Chapel, (once a farm) which was well attended 50 years ago, but sad to say has now few loyal adherents. * PM is Primitive Methodist
A spacious well-built Inn, the Fox & Hounds looks sadly out of place. The most common name when I was a boy was Coleman, there is a gravestone facing the vicarage lawn erected to one Timothy Coleman, Blacksmith with the usual epitaph to Vulcan's sons "My Tongs & Hammers are reclined, my bellows have lost their wind.
Fishpool or Fishpools, another hamlet so called from two large ponds which once existed and are shown on the parish award maps, there being a good spring a little higher up, the stream meandered through the Bottoms and erupted itself in Palterford pond. This water ultimately dried up after several big waterworks were started round here.
Old Fishpool contains about 30 houses, a chapel, an Inn "The Little John" a reminder of Sherwood Forest (also the "Robin Hood" at Rainworth).
There are a number of houses being built near Larch Farm, where by the way, a Toll has once existed.
Blidworth Proper
Blidworth Wood as it's called, formerly formed part of Sherwood Forest, indeed there are a number of venerable oak trees, gnarled and hollow of massive proportions, identical with those in the Dukeries they must be at least 1000 years old, there is not the least doubt that Robin and his Merry Men were well acquainted with them over 700 years ago. On the south side of the Cave pond there is a depression near the pond head where once a cave hewn out of the sandrock existed, called Robin Hood's Cave, my father remembered it quite well, it was destroyed about the middle of the past century."
The Council for British Archaeology's Festival of Archaeology Part II - another week of events to get people engaged with and enthused about archaeology, from 24 October - 1 November.
See website for more details
https://festival.archaeologyuk.org/
Digital and on-site activities available.
August News Sheet:
Whilst VE Day marked the end of the war in Europe in May 1945, many thousands of Armed Forces personnel were still involved in bitter fighting in the Far East.

Victory o
They were the soldiers who found themselves in the midst of a military disaster – and who often regarded themselves as the Forgotten Army at the end of the Second World War.
Harry Clarke wrote:
Aug 19 Sun - "Last week we had our V.J. Day for the defeat of Japan. The headstocks were lit up some of the children had tea in the New Village in the streets. I had only one holiday, I was on nights. The Pits in Nottinghamshire decided to work August Bank Holiday Monday*. I was doing the chargemans job & so had to go on at 6P.M. Sunday till 6.30 A.M. next morning, two more men should have come on at 10.30 P.M. but did not come so I was with myself all night. Rene Clarke was talking to me today she got back from her holidays. *nobody turned up so they couldn't work".

REMEMBERED IN SILENCE
BLIDWORTH WAR MEMORIAL
By Tom Murray
The War Memorial on Main Street, Blidworth pictured here was dedicated on 3rd November 2007 and although originally it was to include the fallen servicemen and women of WWI, it was decided to include from WWI to Afghanistan.
Tom Murray was part of the committee to get the memorial in place and carried out vital research finding those names of the lost during the actions of WWII. He wrote and published his book and has kindly agreed to us using some of the information from it in our Society's news.
Fighting in the Asia-Pacific took place from Hawaii to North East India. This year we remember the contribution of all Commonwealth and Allied Forces, without whom victory and the freedoms and way of life we enjoy today would not have been possible.
The following people are some of those who died in this theatre of war:
Private Arthur Draycott – killed in action Singapore 12th February 1942
Gunner Harvey Pressley - died 2nd October 1942, Hong Kong
Signalman William C Hikin died 18th August 1943, POW on Burma-Siam railway
Trooper Eric Harrison – died 28th February 1945, Burma
They shall grow not old as we that are left grow old
Age shall not wary them nor the years condemn
At the going down of the sun an in the morning
We will remember them
As our cinema's begin to open and we look forward to enjoying the big screen films of today, our thoughts go back to the time of the picture houses in Blidworth & Rainworth.
The Palace, Rainworth the popular cinema. Continuous Monday to Friday 6-10.30pm
Admission:
Front stalls 6d; Back stalls 9d Circle 1/-
This programme dated 1935, 4 years before the start of WWII.
The Marines are Coming - film 1934 - A brash marine assigned to a new post under the command of his former rival. The marine falls in love with his commanding officer's fiancée and romances her away from him…..
Adverts for various businesses in and around Rainworth:

Permanent Wave – 238 Southwell Rd East
Fancy Drapery – 182 Southwell Road
Fish & Chips – 180 Southwell Road
Blidworth:
Chemist & Optician – Mansfield Rd
Newsagent – Mansfield Rd
Boot Repairer – Mansfield Rd
Dale Garage – Blidworth
General Dealers – Lyndhurst Ave
Pathé News was a producer of newsreels and documentaries from 1910 to 1970 in the United Kingdom. Its founder, Charles Pathé, was a pioneer of moving pictures in the silent era. The Pathé News archive is known today as British Pathé. Its collection of news film and movies is fully digitised and available online.
RAINWORTH – introduction
I was born in Rainworth, still living in the house I was born in 64 years ago this year. I learned some of the village's history whilst at school. I was told the village was termed a "ribbon" village, meaning that houses and shops were built along and in line with the original road that comes from Southwell to Mansfield; named Southwell Road – divided into East and West. Later as the village developed with the Rufford Pit; public transport (train); and the need for more housing, it became a village with 5 distinct estates around the original village.
There are several sources of material depicting the development of the village from the original settlement in Roman times. Will Richards, referenced the village in many of his books, as did Sam and Harry Clarke (Harry worked at Rufford Pit) in their diaries.
Wikipedia records: "Rainworth started as a settlement close to a Roman road that went through Mansfield and Newark, and provided access to the coalfields of Derbyshire for the Roman settlements in the area to the east of Nottinghamshire. The sheltered location and access to clean water from the River Idle (now called Rainworth Water), meant that the area was often used by travelling Romans as a camp site. In the year 617 AD, a mighty Roman warrior, Readwald, stayed at the site prior to a battle with Ethelfrith, King of Mercia. In the battle, Readwald's son, Regehere, was killed, and from that day, the area was known as Regehere's Wath (Wath being a ford or crossing point over a river). Over the years, many changes in the spelling of the name have been recorded, from the original Regehere's Wath to Reynwath by 1268, then Raynwath, and then to the present-day name of Rainworth. Rainworth Lodge was first built in 1190 as a hunting lodge. Rufus Clarke lived there in 1212 and was with King John's hunting parties in the forest. Little more is known about the village until the 16th century, when it is recorded that it was a peaceful hamlet with 13 dwellings:
• Three Thorn Hollow Farm; (Three Thorn Hollow now named Blidworth Lane).
• six houses in the Old Square known as Ramsden Croft;
• The original Robin Hood Inn, then named the Sherwood Inn;(now Tesco's)
• the toll house, nicknamed The Inkpot; and
• five houses on the road leading to Mansfield.
The people who lived in Rainworth were farmers or nurserymen.
Estates surrounding this original settlement:
• Kirklington Road – pit houses for the miner's families
• White City – houses going up Southwell road towards Mansfield
• Wimpey – off Warsop lane pit houses built around 1953/4
• Geordie – below Joseph Whitaker school miners from Northumberland housing
• Model Farm – along Lake View Farm road (bungalows and houses)
I live on the Wimpey estate – houses built of concrete to provide housing for the miners of Blidworth and Rainworth pits. My family moved into our house on the 1st January 1954. The first and only tenants. Dad worked at Blidworth pit for 33years on the coal face. I and my sister attended school at Blidworth County Council school (now Blidworth Oaks Primary school) before going to Joseph Whitaker and Sherwood Hall Grammar schools respectively.
I would like to share the village's history with you, Jayne Williams
Rainworth pictured left, shows Southwell Road going down into the main village from Mansfield on the left is the Pumping station and, on the right, (off shot) is the Methodist Church.
Rainworth Water (previously River Idle), feeds Rufford Mill and Lake, plus L-Lake which is part of Rainworth Lakes that are a site of special scientific interest.
The river rises in Normanshill Wood, to the north-west of Ravenshead and flows eastwards, passing under the A60 road, and to the south of Portland Training College.
Some dates and sites to explore:
1871 – train link from Mansfield to Southwell opened; station in Rainworth
1879 – elm tree planted called "Tree of Knowledge";
1890 – first church built
1895 – pumping station built
1939 – St Simon & St Jude built
1911 – work starts at Rufford Colliery (more housing needed built along Kirklington road)
1913 – pit disaster
1914 – primary school "Heathlands" built
1924 – Python Hill school opened
1945 – Lido in disuse by end of the war
1950s – more housing needed Wimpey estate built; Council houses built Kirklington road above Python Hill school
1963 – secondary school Joseph Whitaker opened
1965 – Railway stopped; more housing to accommodate families from NE England – Geordie estate
1975 – Black Panther caught by locals and police
1993 – Rufford Colliery stopped producing coal; Welfare remains open
Ravenshead – introduction
100 years ago, Ravenshead was centred on an area called Fishpool, this name appeared on a 15th-century map. There can still be found a signpost in Blidworth Bottoms indicating the direction of Fishpool. This name pertaining to the fish pools of Newstead Abbey.
Newstead Abbey, a 12th-century grade 1 listed building and ancestral home of Lord Byron, is accessed from the village. After the death of Thomas Becket, King Henry II supposedly to make up for this terrible deed gave the Canons of the Order of St Augustine the land at Ravenshead where they set up a priory, the walls of which can still be seen today. It is here that the name Ravenshead is first encountered. "Ravenshede begins at the aforesaidway which lies from Papilwyke [Papplewick] to Blydeworthe, along the hollowroad eastward which is called Thefestyghe: and this leads to the King's highway which is called Nottinghamgate."
In the Middle Ages the priory was a stopping place for pilgrims.
In 1966 the
Fishpool Hoard of 1,237 15th century gold coins, four rings and four other pieces of jewellery, and two lengths of gold chain was discovered by workmen on a building site near present day Cambourne Gardens, in Ravenshead, an area then known as "Fishpool".
It is the largest hoard of medieval coins ever found in Britain. To judge from the dates of the coins the hoard was probably buried in haste at some time between winter 1463 and summer 1464, perhaps by someone fleeing south after the Battle of Hexham in May 1464, in the first stages of England's civil war between aristocratic factions, the War of the Roses. The British Museum assesses the face value of the hoard when deposited, about £400, would be equivalent to around £300,000 today.
As soon as we have any information as to when we can meet again we will try and contact the membership individually (please contact us to ensure we have your most up to date contact details – by email to
blidworthhistory@virginmedia.com or check out both our website
http://www.blidworthhistoricalsociety.co.uk/ or Facebook page Blidworth & District Historical and Heritage Society